Why Can't We Still Be Friends?
March 23, 2009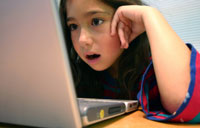 In a recent post at her Flooring the Consumer blog, C.B. Whittemore discusses the frustrations of transferring newsletter subscriptions from one email address to another. "It's really easy to unsubscribe," she says. "But, it's really, really difficult to change your email address. Don't believe me? Go try it out." Among the roadblocks to what should be a smooth process:
No obvious process except unsubscribing from the old address and starting another subscription with the new one. "Wouldn't it be more valuable and more efficient all around to have me modify my existing account?" she asks. "I'm willing to do it. I'm trained. So, why not make it easy for me to do that?"
Imprecise language that obscures a path to account management. "There may be a link," she notes, "but for the life of me, I can't figure that out based on the options I'm offered."
The result? What could be a delightful interaction instead becomes an experience filled with headaches and annoyance.

"As wonderful as email newsletters are," says Whittemore, "please, please, please consider how easy and intuitive your newsletters are for your readers to manage their account. Great job on unsubscribing, but how 'bout making it easier to have a longterm relationship?"
→ end article preview
Read the Full Article
Membership is required to access this how-to marketing article ... don't worry though, it's FREE!