The Second Life of Marketing Copy
April 30, 2009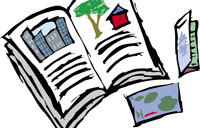 Getting your Web site's marketing copy just right takes time, effort and money. "But before you amortize your investment," says Rick Sloboda of Webcopyplus, "consider how those carefully crafted words can work for your business in other places." By repurposing your content, he argues, you can:
Reinforce your brand identity
Establish consistent messaging
Increase customer recognition
He recommends various channels for repurposed copy. Here are a few:
Press releases.

Your "about us" page should have a concise, well-written description of your company; why not borrow or adapt this paragraph for the "about us" section of a press release?

Professional networks.

There's no need to write a new bio every time you join an online network like Facebook or LinkedIn if you have a polished backgrounder at your site.

Business cards.

"On the back," advises Sloboda, "feature your 'mission' or 'services.' This will set you apart from the many business people whose cards say nothing about what they do."
The Po!nt: According to Sloboda, you have compelling reasons "to repurpose your website marketing copy so it works overtime for your company, online and offline."
Source: Article submitted by Rick Sloboda of Webcopyplus.

→ end article preview
Read the Full Article
Membership is required to access this how-to marketing article ... don't worry though, it's FREE!