Choosing Customer Segments to Target
The decision of which segments to choose is perhaps one of the most difficult challenges for a firm. The reason? Firms often identify a greater number of attractive segments that they are capable of pursuing, given their limited resources. It is tempting to enter all segments (see the tutorial on segment coverage), especially those that are growing and represent potentially great profits. In marketing, while we recognize these possibly profitable segments, we take into consideration all parts of the analysis to make sure the firm doesn't enter into segments which ultimately requires resources the firm doesn't possess (in particular, with respect to satisfying customer needs and not being overwhelmed by the resources of competitors).
While there are many ways to think about which segments to enter, a simple but powerful way is to draw on the analysis in the previous tutorials. This can be represented as follows: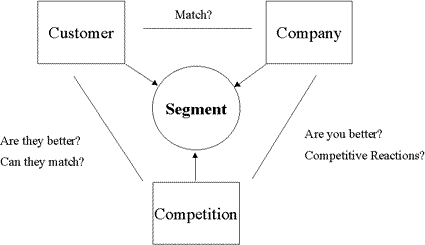 In essence, for each segment you examine your customer analysis. Look at the perceptual map and what the customer in the segment wants. Do customers perceive your product (or could they, if you don't currently have a product) as better on on the benefits they care about? Can the competition match by offering benefits that customers will perceive as better?
Look at your competitor analysis. Are you better than the competition? Are they improving or neglecting abilities to offer benefits that customers in the segment care about? If you played out a game with the competitors, who would win?

Think carefully about your company analysis. Don't focus only on your competencies, but focus as well on you weaknesses. If you choose to compete in this segment, do you have weaknesses that need to be improved, and can you improve them? Think broadly about this, including the culture of the firm. Is the culture consistent with entering this segment (this improves the possibility of resources being devoted to this segment).
In addition, there are a number of other factors that make a segment attractive that must be considered when making this decision. These might include the following:
Segment Size: The sales potential of the segments, in terms of number of units of your product that can be sold, might be important in making segments attractive. This might be because a firm requires a large potential customer base to take advantage of cost reductions through volume sales.

Allen Weiss is the CEO and founder of MarketingProfs. He's also a longtime marketing professor and mentor at the University of Southern California, where he leads Mindful USC, its mindfulness center.