How to Increase Web Traffic via Organic Search
In this article, you'll learn...
Boost Web traffic via organic search
Build properly coded content for popular keywords
Promote your content via links
To increase Web traffic via organic search—without breaking the bank—you'll need to follow three key steps:
1. Research what's in demand
2. Create great content to meet that demand
3. Build links to promote that content
1. Research what's in demand
There should be no guesswork in your content-creation process. Creating content is pointless if you have no idea whether people are searching for it. The good news is that researching what content is in demand has never been easier thanks to a proliferation of online keyword research tools.
The rule of "garbage in, garbage out" applies here, though. How good is the data you're looking at? One tool will give you radically different results from another.

We're seeking to increase organic search traffic, and to my mind that means pleasing Google. The Google Adwords Keyword Tool will give us a great idea whether your keyword is worth pursuing, and it will also suggest synonyms and other close matches.
According to the following figure, "how to increase Web traffic" received 6,600 global searches in the previous 30 days. The green bar indicates a high amount of competition, so we'd better be sure to create excellent content, including images, and if possible, video.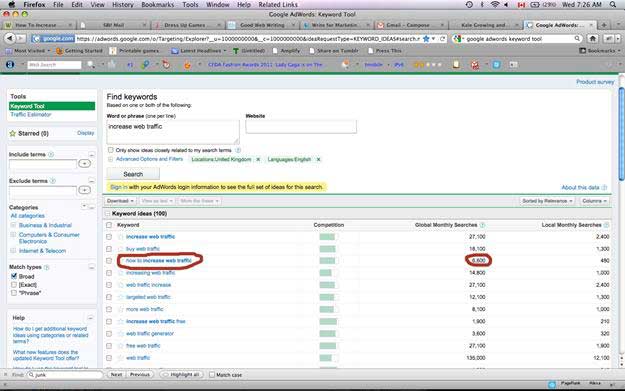 Membership is required to access the full version of this how-to marketing article ... don't worry though, it's FREE!

Ashley Cotter-Cairns
is the publisher of
Best Web Content Provider
, which provides tools and services to help webmasters improve the performance of their businesses.