Stauer is a well-known direct marketer, selling everything from jewelry and watches to coins and collectibles. The tagline on its website reads: Smart luxuries–Surprising prices.
Its reproductions of fine art can sell for hundreds of dollars, and its rare collectibles can be priced above $1,000.
Most of us, though, are familiar with its glossy page ads, selling Stauer-branded watches and jewelry at a price point typically no higher than $50.
Which brings us to today's What's Wrong With This Picture ad critique: Stauer's Compendium Hybrid watch. And that right there is the ad's first goof: product branding.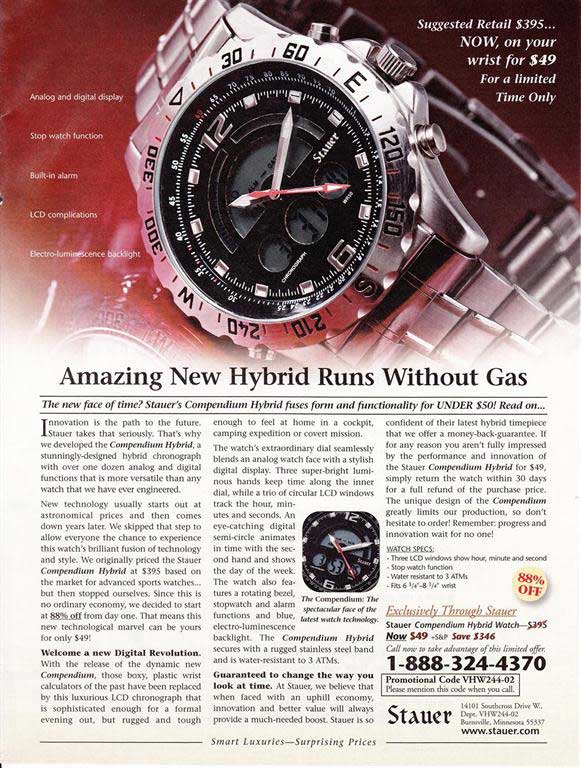 If ever there were a product name that gave you no clue as to what the product is, it would be Compendium Hybrid. I can see General Motors (GM), or maybe BMW, tacking that moniker on a luxury hybrid SUV, but on a watch?
The moniker also violates the KISS principle. Compendium is neither a simple word nor an intuitively understood one. Compendium means a comprehensive but brief account of something otherwise extensive. But how does that apply to a watch? It doesn't... at least, not effectively.
More to the point, would you be comfortable telling anyone who inquired about the watch (if it were on your wrist), "Oh, this ol' thing, why it's my new Compendium Hybrid"?

Take the first step (it's free).
---
---
---