Video Email Marketing Boosts CTR, Purchasing Behaviors
April 5, 2012
|
16,226 views
Online video has moved to the mainstream: 81% of senior marketing executives now use online video content in their marketing programs, up from the 70% who did so a year earlier, according to a report by the Web Video Marketing Council (WVMC) and Flimp Media.

The new quarterly report is based on a poll of seasoned, senior marketing executives, conducted via the WVMC website and related media channels.

Below, additional findings from The Q4 2011 Video Marketing Survey and Video Trends Report, by WVMC and Flimp Media.

Brand websites (67%) and social media sites (61%) are the most popular channels for sharing video content; however, more than one-half of surveyed senior marketing executives (52%) are using video content in email campaigns, up from 50% a year earlier.

One-third (33%) of marketing executives cite lead generation as a key application of video content marketing, while 17% cite internal communications.


Integrating video content into email campaigns appears to be a powerful marketing tactic. Among senior marketing executives who conduct video email marketing:
88% say integrating video with email has a positive impact on email campaign performance.
76% say campaigns that integrate video and email generate higher click-through rates (CTR).
Moreover, 72% of marketers who integrate video with email say prospects are more likely to make a purchase or take other desired actions after viewing video content sent via email.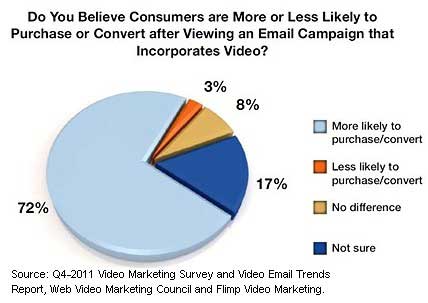 Membership is required to access the full version of this how-to marketing article ... don't worry though, it's FREE!