Young 'Digital Natives' Switch Media Every Two Minutes
April 12, 2012
|
12,444 views
Digital Natives, consumers who grew up with mobile technology, subconsciously move between devices and media platforms (e.g., TV, tablets, and smartphones) far more frequently than Digital Immigrants, those who learned about mobile technology in their adult lives, according to a study by Time Inc.
The new report highlights the challenges for content creators and marketers in engaging younger audiences, raised on a diet of modern, multi-platform media.

Below, additional findings from the study titled "A Biometric Day in the Life" conducted by Innerscope Research for Time Inc.
On average, Digital Natives switch their attention between media platforms 27 times per hour, about every other minute, whereas Immigrants switch their attention between media 17 times per hour:

Digital Natives show low emotional involvement with media content
Because Digital Natives spend more time using multiple platforms simultaneously, their emotional engagement with content is constrained, thus limiting the range of emotional responses (i.e., fewer emotional highs and lows).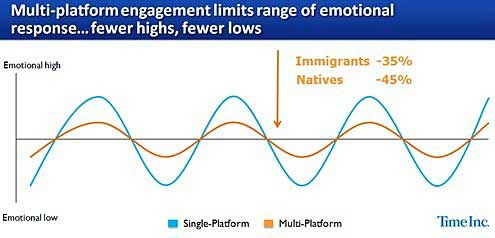 Membership is required to access the full version of this how-to marketing article ... don't worry though, it's FREE!