Best Day to Publish Facebook Content? It Depends
April 30, 2012
|
16,528 views
Tuesday is the day Fans of auto brands are most likely to interact with auto content on Facebook (e.g., like or share a brand post or image), but Sunday is the most engaging day for telecom and consumer goods brands, according to a study by Socialbakers.

For the study, Socialbakers reviewed user activity on a weekly and hourly basis for over 10 million Facebook pages across 10 industries to determine the best days of the week to achieve maximum Fan engagement.*

In the auto sector, brands generate the most engagement from their Fans on Tuesdays (0.11%), Wednesdays (0.10%), and Fridays (0.10%) particularly via photo-centric content.

Sunday is the day when fast-moving consumer goods (FMCG) brands can expect the highest levels of engagement via social media platforms. Most interaction with FMCG brands is photo-centric as well, reaching its peak over the weekend, particularly on Sunday (0.16%):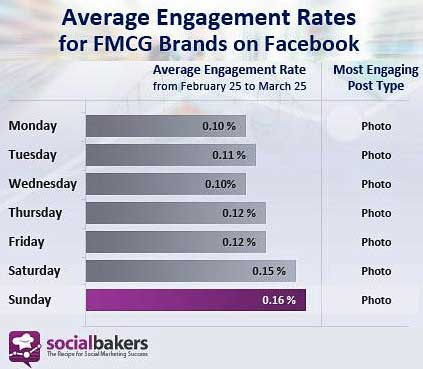 Telecom brands also register high engagement via visual posts, with 0.11% engagement on Sundays (and a peak at 7am), compared with only 0.06% on Tuesdays and Thursdays: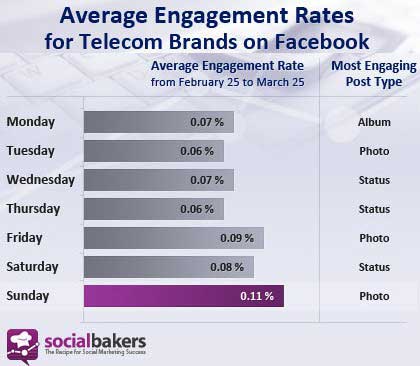 Membership is required to access the full version of this how-to marketing article ... don't worry though, it's FREE!