Content curation is everywhere: 95% of surveyed marketers say they have curated content in the past six months (i.e., shared content from blogs, industry publications, or other online channels with customers or prospects), according to a survey from Curata.

Among marketers surveyed, roughly one in three (32%) curate content daily, three in ten (31%) do so weekly, and one in five (21%) curate content on a monthly basis.
Below, additional findings from Curata's 2012 second annual Content Curation Adoption Survey.

Agencies are embracing the trend, too: 75% of marketers from agencies and consulting groups say content curation is a more important part of their marketing strategy in 2012 than it was a year ago.


Social media is the top channel for sharing content

Among marketers who curate content:
76% share curated content via social media channels.
57% share content via personal email messages.
54% share content via blogging.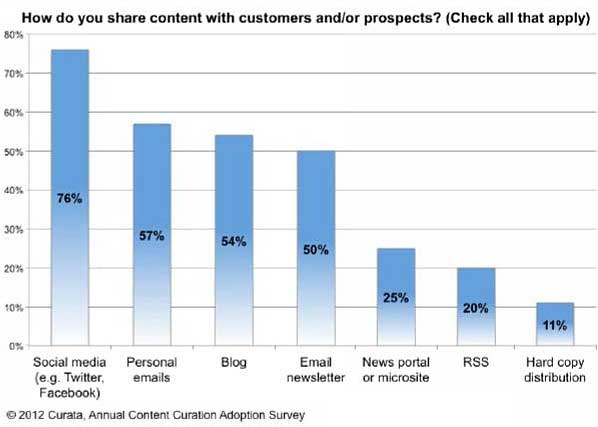 Fully one in four (25%) marketers say they share content via news portals or microsites, while 20% share via RSS channels.
Marketers are using content curation to build thought leadership

Establishing or improving thought leadership is an important objective for content marketers, even more so than last year. In addition, an increasing number of marketers are recognizing the importance of content curation on search performance:
85% of marketers say thought leadership is a key objective of their content curation efforts, up 6 points from the 79% who reported the same in Curata's 2011 survey.
80% of marketers cite elevating brand visibility and buzz as a key objective of content curation (vs. 76% a year earlier).
65% of marketers use content curation as part of an SEO strategy (vs. 48% in 2011).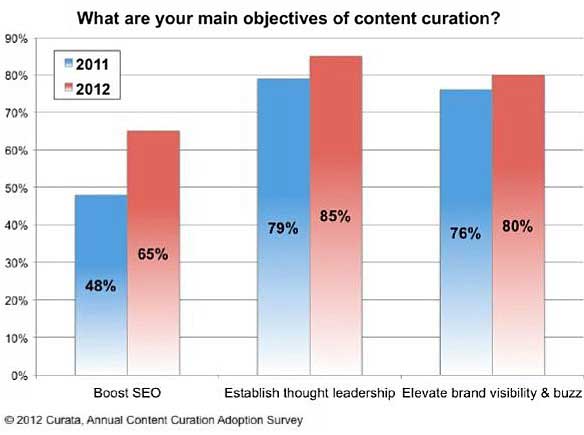 Developing original, high-quality content remains a big challenge

Creating original content can be a time-consuming effort for content marketers:
73% cite creating original content as a big content marketing challenge.
75% cite finding the time to develop content as a big challenge.
56% cite finding high-quality content has a big content marketing challenge.
Curators are using a variety of sources for content
Social media channels are also the top source of curated content (79%), followed by email newsletters (63%) and news-clipping services (53%).
About the data: Findings are based on a survey of 400 marketers, conducted online in March 2012 by Curata (formerly HiveFire, Inc). The majority of respondents (39%) were marketing directors, 24% were owners or CEOs, and 12% were consultants or agency marketers. Some 50% of respondents work in the tech industry, 36% in financial services, 35% in healthcare, and 30% in manufacturing (30%).
Join over 600,000 marketing professionals, and gain access to thousands of marketing resources! Don't worry ... it's FREE!