Social Media Top Channel for Sharing Curated Content
May 7, 2012
|
27,416 views
Content curation is everywhere: 95% of surveyed marketers say they have curated content in the past six months (i.e., shared content from blogs, industry publications, or other online channels with customers or prospects), according to a survey from Curata.

Among marketers surveyed, roughly one in three (32%) curate content daily, three in ten (31%) do so weekly, and one in five (21%) curate content on a monthly basis.
Below, additional findings from Curata's 2012 second annual Content Curation Adoption Survey.

Agencies are embracing the trend, too: 75% of marketers from agencies and consulting groups say content curation is a more important part of their marketing strategy in 2012 than it was a year ago.


Social media is the top channel for sharing content

Among marketers who curate content:
76% share curated content via social media channels.
57% share content via personal email messages.
54% share content via blogging.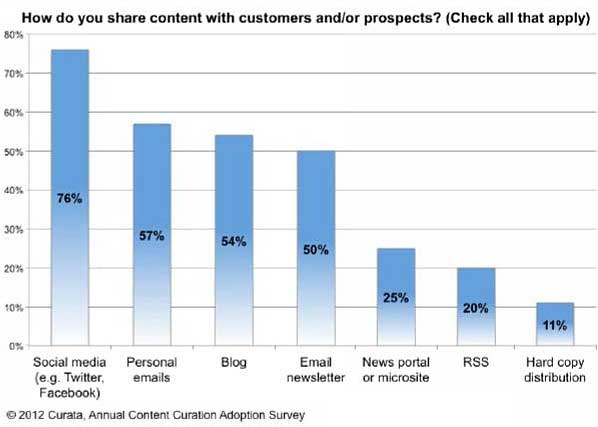 Fully one in four (25%) marketers say they share content via news portals or microsites, while 20% share via RSS channels.
Membership is required to access the full version of this how-to marketing article ... don't worry though, it's FREE!