The relative position of a brand on an organic search engine results page (SERP) appears to influence key brand measures among target consumers, such as brand awareness, brand quality, and purchase consideration, according to new research by Conductor.
The findings are based on a controlled study using an established brand (Frigidaire) in an established manufacturing category (refrigerators) as the test case.
Consumers were directed to an internal search page and then asked to enter the keyword "buy refrigerator." Users were presented with customized search results (including refrigerator manufacturers and retailers) modeled after the Google SERP for the keyword phrase, and were then asked to respond to a series of questions related to brand value. The only modification made was to insert target brand(s) in the results.
Overall, appearing in the search results above the fold (i.e., within the part of the page that appears without scrolling) generated a 10-30% lift the manufacturer brand over the baseline score (in which the brand didn't appear in the results). However, the most significant lift to the brand—up to 30% over the baseline—was observed when the brand appeared both above the fold in natural search results and in universal search results or digital assets.
In addition, when the brand appeared in paid search (PPC) together with natural search results above the fold, brand awareness scores increased 20% above the baseline, and 10% when appearing only in natural search.
However, the addition of the brand appearing in PPC together with natural search listings didn't provide any lift to brand quality and purchase consideration scores.
Below, additional findings from Conductor's study titled "The Branding Value of Search's Page One."
Similarly, when consumers saw a retailer brand above the fold in the search results, their intent to purchase at the retailer increased 20% (over the baseline condition of not appearing in the search results); purchase intent increased 10% over the baseline when the retailer appeared below the fold.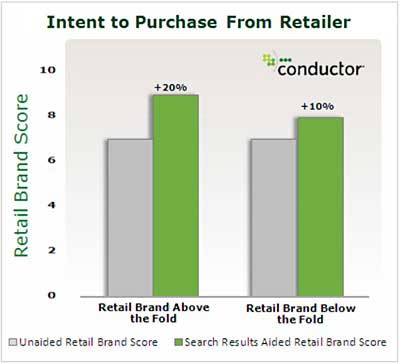 "The study suggests that millions of eyeballs in online search go untapped by marketers in their efforts to build brand awareness that helps drive sales and the overall success of the business," said Nathan Safran, director of research at Conductor and the author of the report.
"It's a huge, lost opportunity and wake-up call for marketers who want to build a powerful presence on and offline. Brand owners need to rethink their approach to brand development and seriously consider search as a valuable medium for reaching their branding and business goals," Safran added.
About the data: All findings are from Conductor, which included the results of a survey of 250 consumers, conducted in the first quarter of 2012.

Take the first step (it's free).
---
---
---