Social CTAs Drive Engagement on Facebook
November 29, 2012
|
3,521 views
When you want your target audience to take a particular action, including on Facebook, you must ask them to do it, according to a study by Dan Zarrella for HubSpot that explored how various call-to-action (CTA) phrases impact the engagement of Facebook users.
Take, for example, "liking" a post. Among more than 1.2 million posts from the top 10,000 most popular Facebook pages (ranked by number of likes), those that included the word "like" drove roughly 2 times more likes than posts that did not include the word:
Similarly, Facebook posts that included the word "share" drove more shares (as well as more likes) than posts that didn't include the word: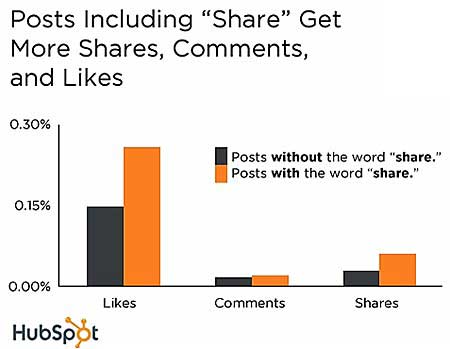 Asking a Question on Facebook
In separate research, Dan Zarrella explored Facebook posts in the form of a question.
Posts that contain a question tend to generate more comments; however, they garner fewer likes and shares than non-question posts:
Membership is required to access the full version of this how-to marketing article ... don't worry though, it's FREE!