Marketers talk about asking for feedback all the time. Yet, few marketers take the time to really engage with subscribers on any level. That's why Betty Crocker (www.bettycrocker.com) stands out by adding a rating score to the footer of its email template (see below). Subscribers can rate each message from "Not useful" to "Very useful," on a one-to-five scale.

This is smart and pretty brave—but it's also nearly invisible. Perhaps Betty Crocker is testing the feature before making it more accessible.
For starters, it should be more prominent in the message and easier to read. White copy on the light green background does not pop. Also, all rating choices go to the same landing page (image below), which articulates what I believe is genuine gratitude—but misses a big opportunity to engage further.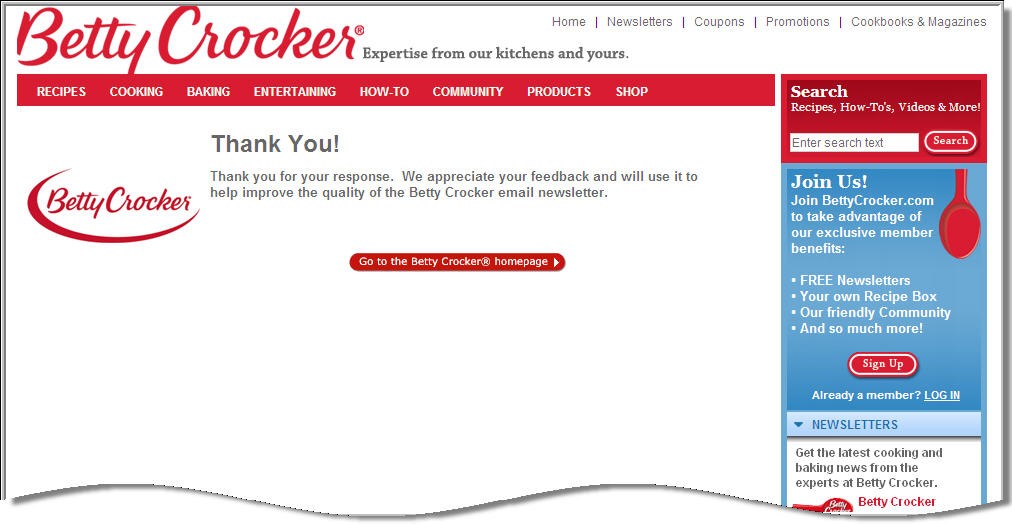 For example, it would be great to see the compiled votes of others, and to have a chance to also provide comments. The landing page is also a great place to link to the Preference Center or some other recent email messages with interesting recipes or tips.
In short, Betty Crocker starts the conversation but then cuts the subscriber off.
One of the things we love about email marketing is the plethora of data it can generate. Of course, piles of data are also harder to synthesize and manage. Email marketers get lots of subscriber feedback: opens, clicks, conversions, complaints, inbox-delivery rate, unsubscribe requests, and pass-alongs (forwards).

Take the first step (it's free).
---
---
---