I'll never forget my first purchase on eBay. In 1999, I bought a 7-wood golf club in hopes that it would improve my game. No such luck. It turns out that when you are a mediocre golfer, the club doesn't matter that much.
But anyway...
Did I mention the year was 1999? Think back a bit. Wikipedia was just getting started. Blogs were in their infancy. Email and email marketing were not nearly as ubiquitous as they are today. LinkedIn, Twitter, Facebook, Digg, MySpace, etc.—not even thought up yet.
Fast-forward 11 years to 2010: I attempt to login to my eBay account for the first time in nearly eight months and receive a message that my account has been blocked; I call the eBay support number so kindly supplied, and speak with an extremely helpful gentleman who tells me that my account was locked due to "suspicious activity"; he goes on to explain phishing scams to me.
(More on phishing: the best video definition, in under three minutes, from Common Craft.)
Fair enough. I actually appreciated that eBay was looking out for me. eBay reset my account and sent me an email. Life was back to good again... until I actually saw the email: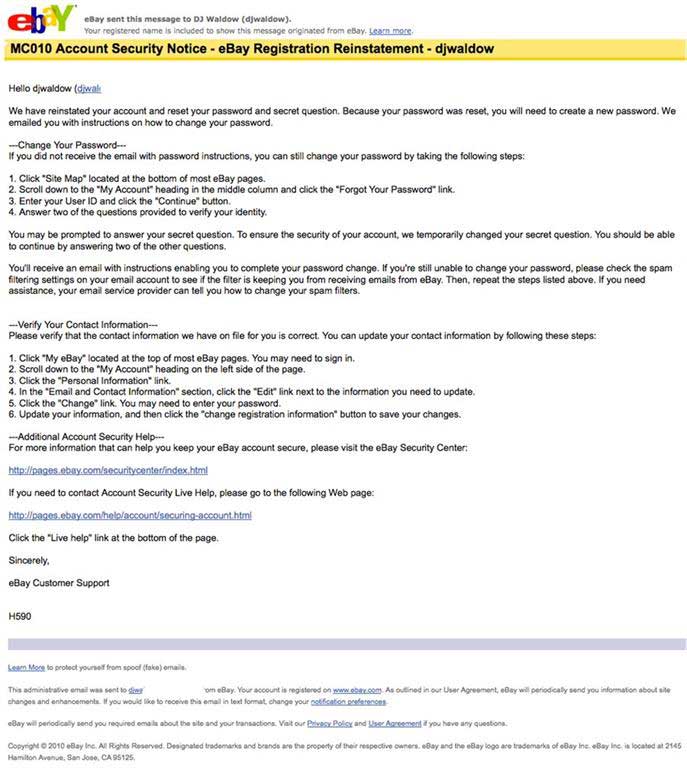 What eBay Did Wrong

Take the first step (it's free).
---
---
---