Industry analysts are touting self-service business intelligence (BI) as the golden child of 2011. Lucky for marketers, one area that's ripe for self-service BI is social marketing.
SaaS (software as a service) BI solutions for the cloud are an excellent option for cutting costs and reducing the drain on information technology (IT) departments. The SaaS model has also made BI accessible to more users, paving the way for self-service BI.
Add to that the introduction of social media metrics, and you have a marketer's dream: a way to determine the holy grail of return on marketing investment (ROMI).
Self-Service BI: What it Means for Social Marketing
True self-service BI must be timely, relevant to the user, very easy to consume, and highly interactive. Users must be able to personalize it while still allowing for consistency across the organization. It needs to remain focused on specific business processes, such as marketing contact to sales opportunity, and support specific best-practices, such as social media outreach.

All that makes self-service BI and social marketing a match made in heaven.
Many marketers instinctively know the value of using social media channels in their marketing mix. Yet in this still-untracked territory, many struggle to prove that the outcomes of such initiatives are worth the time, resources, and marketing spend.
BI tools may be exactly what marketers need to demonstrate the value of social media, an endeavor that has proven to be complex and difficult—and beyond the capability of many social-media measurement tools on the market.
BI is no longer relegated to the realms of business analysts or finance, nor is it limited to BI "experts." The shift toward self-service BI means that anyone can now use it as part of his or her daily decision making, and it's focused on metrics that matter to marketing.
For example, whether you're doing a survey on Facebook, seeking webinar participation via Twitter, or hosting a group discussion on LinkedIn, you need access to data that show outcomes of marketing campaigns, rather than mere activity reports.
"OME": Your New BFF
The addition of social media to the marketing mix means that BI solutions need to aggregate and analyze more sophisticated performance metrics, particularly since the number of data sources and associated activity metrics continues to grow.
Because more business is being conducted online, marketers are increasing their focus on social media and online marketing to take advantage of websites, search engines, and paid search to attract and engage prospects. There's no question that you're constantly tasked with improving the effectiveness of online marketing and showing the business value and ROI of online marketing campaigns.
But how?
Activity measures, such as the number of fans or followers and mentions, are a starting point for understanding whether social media initiatives are generating interest. However, calculated performance metrics, such as feedback rate (number of comments divided by the number of pageviews), provide better context. Outcome measures, such as referred website visits that result in a goal completion, show true business value.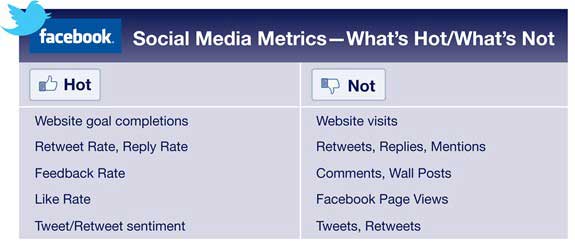 You can extend that approach by relating costs to sales outcomes (number of leads, number of opportunities, cost per conversion, cost per opportunity), which starts you down the path toward true marketing ROI. Such information can be achieved by combining outcome data with CRM data to show metrics like incremental sales, and with ERP data to show incremental revenue and profit.
Though you may have used tools that track site visitors, bounces, and even bounce rates, those metrics alone are quickly becoming useless and obsolete because there are so many other factors to consider.
A bounce rate is a percentage that doesn't tell you enough. You may have a zero bounce rate on a page... but if there was only one visitor to the page, that low bounce rate quickly loses its luster.
Instead, a weighted metric based on the number of visitors to a page, the number who stayed for a reasonable amount of time, and the number of visitors who viewed consecutive pages, provides more useful and actionable insight. Such weighted metrics also help to provide complete context of the outcome, including the drivers that affect that outcome.
For example, consider what I call overall marketing effectiveness, or "OME." That is a measure that can be tracked over time to show a composite view of marketing campaign effectiveness. OME is composed of "attraction," "engagement," and "conversion."
Overall Marketing Effectiveness (OME) = Attraction x Engagement x Conversion
Attraction is a measure of bringing visitors to the Website; for paid search, that would be click-through ratio. Engagement measures the percentage of visitors who stayed and engaged, based on time spent, number of pageviews, etc. And conversion tracks the percentage of visitors who completed designated website goals—converted to qualified leads, became sales opportunities, closed orders, etc.
Best-Practices for Measuring Social Media Effectiveness
Today, marketers can benefit from BI solutions that focus on the context of outcomes, improving decision-making and, ultimately, driving incremental revenue and profit. As you work to improve online marketing effectiveness, consider the following nine best-practices:
Begin by mapping out the ideal marketing process flow that will attract, engage, and convert prospects to be quality sales leads. That process might start with posting articles and content aimed at a specific interest group within an online community, backed up with content from within the community, then directing the visitor to the website for the next level of value-added content. The website should create continuity of experience and a natural guidance toward a desired action that will turn visitors into sales leads.

Determine the online marketing initiatives and campaigns you will use to attract and engage prospects. Selection of appropriate online communities and engagement is important in ensuring the effectiveness of those initiatives.

For each initiative, establish the audience profile, outreach, value proposition, messaging, engagement plan, and call to action that will drive them to your website—as well as the budget you are willing to spend.

Augment the community outreach by identifying the most appropriate set of keywords that prospects will use to find you online and ensuring that you are optimizing your website layout, tags, content, page titles, etc., for those keywords.

Identify the content and navigational paths on social networks that will inform, engage, and guide visitors through the initial steps of your ideal marketing process. Taylor those to each specific audience and social community, and match the right tone and depth.

Align the website experience to extend the engagement created within the online community. Specific landing pages are a best-practice to ensure the conversation continues with the same tone and then morphs to the overall tone of the website.

Set goals for desired actions you want those visitors to take based on your process flow. That may include downloading a whitepaper, watching a video, registering for an interactive demonstration, or completing a "contact me" form.

Measure all your online initiatives to show activity, outreach, engagement, and most important, outcomes (goal completions, lead and opportunity conversion ratios, and cost-per-conversion).

Even better, track all the way through to incremental sales, revenue, and gross profit driven directly from online marketing.
* * *
Imagine the power of having "right-time" insight into your social media campaigns and being able to instantly alter their focus, rather than simply tossing meaningless numbers at your boss.
Business intelligence for social marketing—via easy-to-use tools like interactive dashboards and budget-friendly SaaS solutions—can help marketers create and demonstrate greater value in their social media outreach campaigns.
Join over 600,000 marketing professionals, and gain access to thousands of marketing resources! Don't worry ... it's FREE!