The following article is based on excerpts from Ivy Worldwide's Social Media Judo: The Essential Guide to Mastering Social Media and Delivering Real Results for Your Brand, authored by Chris Aarons, Geoff Nelson, and Nick White (with Dan Zehr).
To carry off a marketing campaign worthy of a judo master—one that derives the maximum success from the most efficient effort—a company must craft a program that benefits online influencers as much as, perhaps even more than, the company itself.
That means you, the marketers, must ask the influencers you've targeted at least a few questions to get input before you launch into the campaign. It means you have to first build personal relationships with these bloggers and content producers—the people who can influence hundreds or thousands of your customers. It means coming to influencers with an open mind, keeping their needs in mind first, and demonstrating that approach at every turn. And you must offer those bloggers and your online partners a way to promote themselves, their expertise, and their value to their audiences.
Otherwise, your conversation with influencers—and, by extension, with your customers—will dry up pretty quickly.
Every brand wants a cadre of evangelists who can help sway millions of readers with product reviews, blog posts, videos, tweets, etc., but the only way to do that is to allow influencers to make up their own minds, post about what they believe, and adopt your message as their own.

Those influential bloggers might not give you a glowing review for your latest product, but by establishing a track record and relationship with your key influencers, you can get valuable feedback on your product development, support processes, and marketing cycles—every part of your marketing engine.
Besides, bloggers—like anyone, really—are less likely to trash a company they know and trust, especially if they like the people there. They may give your product a good review if they don't really know you; but if you build a personal relationship with them, they'll give you the benefit of the doubt when you stumble (and, let's face it, everyone stumbles at some point).
Three Key Concepts
Understand the following key concepts about influencer bloggers, and you're well on your way to accomplishing social media judo:
Successful bloggers are some of the best online marketers in the world. They have to be if they want to get hundreds of thousands, even millions, of readers coming back every month.
If bloggers are part of the process and their content is being used as an integral part of your marketing program, they will have a vested interest in promoting your message on their blogs and to their communities, forums, Twitter followers, YouTube subscribers, and so on.
When you promote bloggers and their content on your site, you help drive traffic to those bloggers. That, in turn, makes the bloggers more valuable to you, and you more valuable to them, creating a virtuous cycle—including the bloggers' invaluable third-party endorsement of your product or service.
.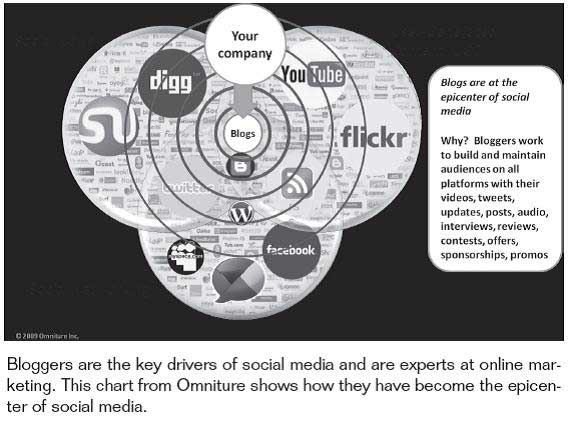 That is the beauty of the judo approach. With a few small steps, you can transform a poorly conceived campaign and lousy email pitch into a true and credible influencer-marketing campaign capable of delivering real results while driving traffic and increasing time on site.
Come to influencers from the start with your hands and your mind open, asking them to tell you what would work best.
You will give up some measure of control in the process, but in so doing you will gain evangelists who will promote the site and the brand today and tomorrow while giving an invaluable third-party endorsement that drives sales.
Still, we know the move from traditional to social media marketing is a difficult transition for many companies because it forces marketers out of their comfort zones and into building long-lasting relationships with influential voices.
By approaching influencers as friends who can help you instead of as targets you intend to exploit, you can tap into their influence in a way that delivers maximum results for all with minimum effort.
With that judo-like philosophy, you will use your opponents' momentum in your favor instead of overpowering them. So, rather than waste all your effort trying to force a message out across the blogosphere, work with site publishers to rely on their influence and reach your potential customers whom they talk with every day.
A company can mimic all the motions, but without the right philosophy its actions are ineffective. A marketer who tries to keep a tight rein on every facet of an online promotion will choke it off before it can fully flower.
Four Principles
As you shift your mindset to a more judo-like philosophy, the practices and skills needed to carry out a worthy online word-of-mouth campaign will become second nature. Consider these four pillars of such a marketing philosophy, each with a nod to the art and science of judo:
1. Minimum effort and maximum efficiency. Put simply, that means tapping into the network of key influencers already in place and using their established momentum to help spread your message.
2. Mutual benefit. That means crafting programs that generate a strong return for the company but also provide an equally beneficial outcome for the influencers and partners with whom you work.
3. Etiquette. Creating personal relationships with online content producers and influencers—rather than merely trying to exploit them when you need them—is what good relationships are all about.
4. Physical education. There must be a bridge between philosophy and practice. The judo mindset changes the ways you think about and interact with your key influencers, both online and offline.
This isn't rocket science. Give your key influencers content that helps build their audiences, and they'll be more likely to use it in ways that benefit you.
Grappling With Change
The idea of giving information out to the "Big Bad Blogosphere" often scares the hell out of marketers stuck in the traditional mindset; the mere notion of releasing unscripted information into the wild is what scares them. The possibility that every message won't be treated as a Matisse masterpiece challenges marketers' professional bearing and self-conception; and, let's be honest, that attitude is rooted in a lack of understanding of this critical audience combined with an avoidance of change.
We're all guilty of that tendency at one time or another, but recognizing the issue is the first step toward correcting the problem. The hard part is abandoning the traditional mindset enough to let yourself actually go out and do it.
When you recognize that the old rules no longer apply and make this simple shift in philosophy, a whole new approach to marketing opens up.
Join over 600,000 marketing professionals, and gain access to thousands of marketing resources! Don't worry ... it's FREE!