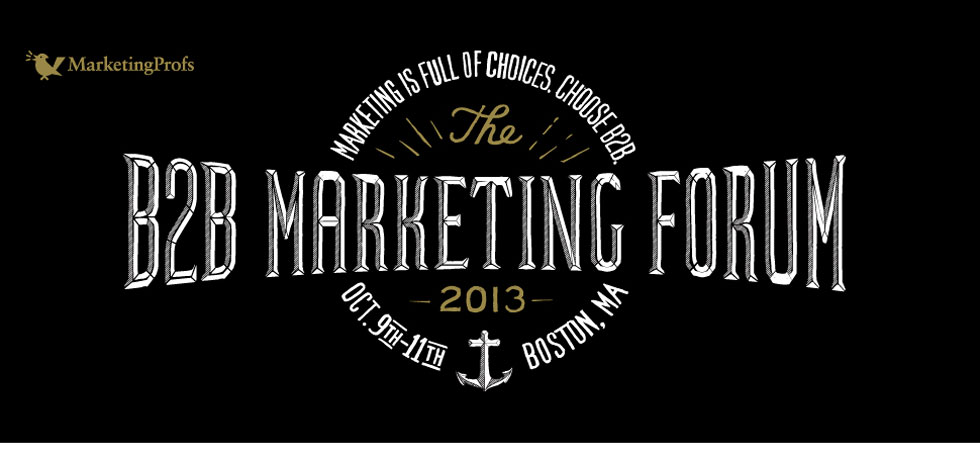 With 32 sessions to choose from, there's a lot to learn.
Get access to more than 30 hours of real-world education—online, on-demand.
B2B Marketing Forum On-Demand features recordings of 32 concurrent sessions and more than 30 hours of the best advice for modern marketers. And it's available online, anytime, through April 24, 2014. Register now.
Sorry, keynotes, interactive sessions, and workshops are not included as part of B2B On-Demand.
AGENDA: Thursday, October 10
| | | | | |
| --- | --- | --- | --- | --- |
| 9:30am–10:45am | Social CRM for the B2B Enterprise | ADVANCED POWER SESSION: Mobile Marketing and Customer Retention: Never Miss the Moment of Opportunity | How to Build a Great B2B Community on Facebook | Creating Versatile, Valuable Content for B2B Results |
| 11:00am–12:15pm | SMB POWER SESSION: How to Form a Culture of Content Marketing and Dominate Your Industry | B2B Conversion Optimization Tactics for Your Site's Lead Generation Pages | 7 Advanced Writing Techniques to Make Your Blog a Smashing Success | ADVANCED: How to Measure Tradeshow ROI and Optimize Your Future Investments |
| 1:45pm–3:00pm | How Buyer Personas Reveal the Whole Truth about Marketing Content & ROI Metrics | SMB: How to Outmaneuver the Giants by Seizing the Narrative | Amp Up Your Content Marketing With Influencers | Optimizing Content Marketing with Multi-Contact Engagement Analytics |
| 3:30pm–4:45pm | POWER SESSION: SEO and PPC Tips to Grow Your Business | Finding the Right Cadence to Nurture Leads to Sales | ADVANCED: Choreographing Content to Drive Business and Captivate Customers | Yes You Can Measure Social Media Marketing |
AGENDA: Friday, October 11
9:15am–10:30am

A Guide to Reducing Your Churn Rate and Increasing Customer Loyalty

ADVANCED POWER SESSION: The Analytics Every Marketer Needs to Communicate ROI Across Teams

SMB: The Essentials of Marketing Automation for Small Businesses

ADVANCED: Making Big Data Smaller

11:00am–11:30am

Leveraging Data-Based Marketing To Find and Win The Invisible Sale

A Smart Marketer's Guide to B2B Email Appending

Reaching Through the Screen: Success in Engaging an Online Social Community in Person

ADVANCED: Location Intelligence the Next Big Opportunity in B2B Marketing

11:45am–12:15pm

Beyond Stereotypes: John Deere's Approach to Personifying Customer Insight

Content Marketing in the Age of Crap

SMB: The Scrappy Brand's Guide to Social Media Marketing on a Budget

Mobile & Social: The Perfect Content Marketing 1-2 Punch

2:00pm–3:15pm

Panel Discussion: Content All Stars Share Their Secrets

Fire Up Your Lists! 13 Keys to More Awesome Email, Social, and Mobile Integration

B2B Marketing Automation and CRM, the A to Z

Visual Storytelling Techniques to Create Successful Marketing Campaigns and Improve Sales Enablement

Sessions, speakers, and schedule subject to change.