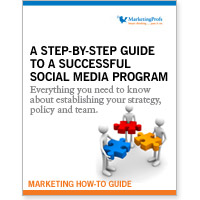 Social Media Program Guide
Words spoken can't be unsaid—nor can written words disappear from the Internet. A hastily written blog post here or a dashed-off tweet there can immediately taint the positive image that your company has carefully crafted. But a thoughtful post and immediate, friendly social media access to your company can form productive relationships—and reap profits.
"A Step-By-Step Guide to a Successful Social Media Program" is packed with everything you need to:
create best practices to garner buy-in, determine strategy
develop a corporate policy
educate your workforce
monitor your progress and results
prepare for any bumps along the way
Businesses of any size need to make social media policies that establish the boundaries (and benefits) of using social media. Check out "A Step-by-Step Guide to a Successful Social Media Program" for the necessary facts to overcome any executive objections to social media—and the blueprints for designing your social media team, policies and risk-management procedures.
This is just one of over 4000 marketing downloads, templates, guides, research reports, surveys, case studies and how-to articles INCLUDED with PRO Membership. Sign up today