RSS is getting much media coverage. But very little is being said about the full circle of RSS marketing power.
The truth is that RSS (which stands for Rich Site Summary, or Really Simple Syndication) goes far beyond "simple" blogging or news delivery. (For an explanation of RSS and what it does, see this MarketingProfs article.)
Business Case for RSS
RSS can be fully integrated in most marketing activities, having the power to extend them and increase their results. This is best demonstrated by the "Business Case for RSS" model: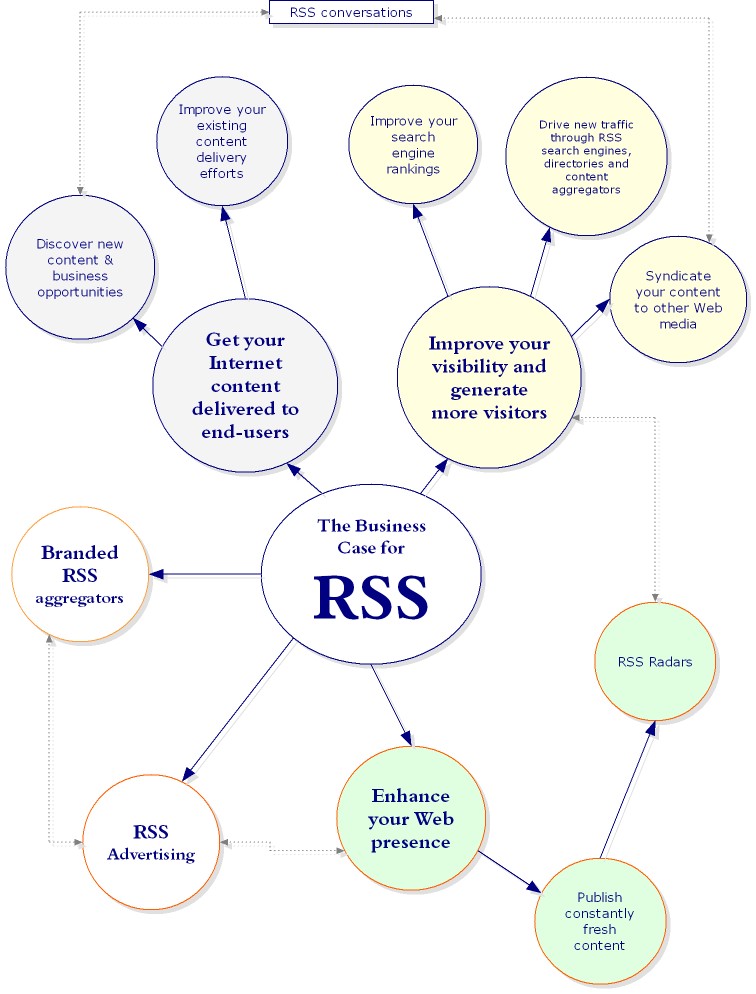 Click to enlarge
RSS is a content-delivery channel for communicating with subscribers, customers, prospects and partners. It gets your content delivered and provides you with multiple new content delivery and business development opportunities. RSS offers a sort of delivery guarantee, as opposed to email, which is burdened by Spam, phishing and many other troubles.


RSS is a promotional/visibility tool that increases your traffic by improving your search engine rankings, generating traffic from new RSS specific sites and getting your content published on other sites. Each of these activities brings new visitors to your site, which are now ready to be converted in to new subscribers with whom you can communicate (via RSS and/or email) for the long term. In addition, the improved visibility enforces your brand and generates more credibility for your company.


Content delivery to end-users and content syndication together form the basis of RSS conversations, which together work to spread your reach throughout the Internet and serve as a strong PR platform.


Once you have access to more prospective subscribers to whom you want to deliver content via RSS, you can provide them with your own branded RSS aggregator to make the switch to RSS easier for them. This also establishes a constant connection with them, enforces your brand and develops brand experience. Your branded aggregator also serves as a sales platform for your own products as well as an advertising platform to generate advertising income.


As a site publisher, your goal is to better satisfy the needs of your visitors, establish yourself as a key content source in your industry and make your visitors come back more often. Providing access to additional information is one of the elements of making this possible. Use RSS to syndicate content from other websites; and, as an upgrade, to target their most focused content needs, create RSS radars for your keyphrases.


All of the above will create advertising venue and create a new source of income.


In addition, by using RSS advertising as an advertiser yourself, you can increase the reach of all of the above activities.
Direct Marketing
What if you are a direct marketer? In my view, RSS meets the needs of even the most demanding direct marketer. It offers marketers most of what email marketing offers, except for the strong push factor.
Not everyone agrees with me on this point. But most direct marketing arguments against RSS are in fact the result of inadequate understanding of the tool.
Here are some advantages RSS offers direct marketers.
a. Scheduled and autoresponder messages
There are already a few services and software packages on the market that allow for scheduled and autoresponder messages via RSS feeds. Once your visitor subscribes to your special RSS feed, he can receive a pre-determined set of messages in a specific time frame, determined by you.
Use these messages to welcome your new reader to your RSS feed; thank your new customer after the purchase, send him additional information about the ordered product and give him the opportunity to buy an additional product at a lower price tag a couple of days later, and so on.
b. RSS metrics
RSS can in fact be tracked: Track anything from the number of your subscribers, their reading habits and their reading frequency to your click-through rates and activities after clicking-through from your feed. This includes tracking which of your RSS feeds are performing better and which are more interesting to your readers and drive more sales... and the same for individual content items.
c. Message targeting
Since RSS feeds can be dynamically generated on a per-user basis, you can easily track the interests of your individual subscribers and then target marketing messages directly to them, making each message relevant to their needs and interests in order to increase your sales success.
d. Message personalization
If you generate your RSS feeds for each individual user, you can also personalize these feeds. Basic personalization includes elements such as the reader's first name, while more advanced personalization might include personalized content and product recommendations and so on.
e. Data capture
Email marketers have already become experts at using opt-in forms to get as much information from the prospect as possible: the prospect's name, his interests, the current products he is using, his current position in the purchase cycle and so on.
RSS can be used in the same way, giving your visitors access to the RSS feed only after they've filled in a simple or complex opt-in form. This can work with e-zine subscriptions as well as forms you require your visitors to fill to either register on your website or download your free report or white paper.
Good news for direct marketers is that these capabilities are already available in many RSS publishing/marketing solutions, available at very acceptable prices, accessible even to the smallest companies.
Note: Rok Hrastnik leads a MarketingProfs 90-minute virtual seminar, "Better Than Email Marketing? RSS Demystified" on Thursday November 17, 2005. Get more information or sign up.
Subscribe today...it's free!
MarketingProfs provides thousands of marketing resources, entirely free!
Simply subscribe to our newsletter and get instant access to how-to articles, guides, webinars and more for nada, nothing, zip, zilch, on the house...delivered right to your inbox! MarketingProfs is the largest marketing community in the world, and we are here to help you be a better marketer.
---
Sign in with your preferred account, below.
Did you like this article?
Know someone who would enjoy it too? Share with your friends, free of charge, no sign up required! Simply share this link, and they will get instant access…
---
You may like these other MarketingProfs articles related to Web Sites:
---