As a result of the financial crisis, Americans have permanently changed their attitudes toward saving money and are more focused on paying down debt and controlling finances, according to a recent study by Synovate.
In addition, Americans are re-evaluating even the smallest of decisions to ensure they get as much value from their purchases as possible, Synovate found.
Resetting Priorities
One in four Americans (25%) say they are glad for the economic crisis, in that it has helped them recognize their priorities. Some 52% of Americans have permanently changed their attitudes to the importance of saving money, while 42% are looking forward to spending freely again. However, 59% of Americans say they will do their best to not revert to pre-recession spending levels.
Below, additional findings from the study.
Paying With Cash
More than half (55%) of Americans say they are using cash less for making payments, possibly because they have less to spend in a tight economy. Similarly, 48% say they're writing checks less, and 34% say they are using debit cards less.
However, 21% say they are using cash more and 34% say they are using debit cards more, in what may be a reflection of consumers' attempts to control spending and reduce credit card debt. In fact, four in ten consumers (38%) say they've reduced credit use.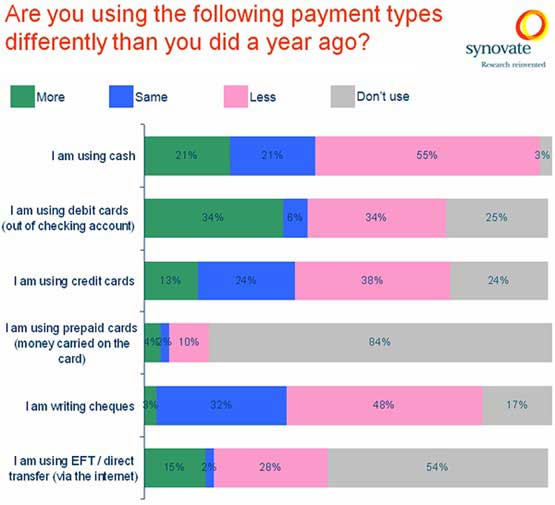 Delaying Gratification
Overall, Americans have postponed buying and have spent less in the past six months:
22% have been holding off buying a new TV, computer, or other large appliance.
16% say they have postponed or spent less on purchasing a car.
10% have delayed or spent less on a vacation.
Spending changes have become personal as well. Some 2% of Americans have delayed having a baby in the past six months, while 7% of Americans have postponed surgery.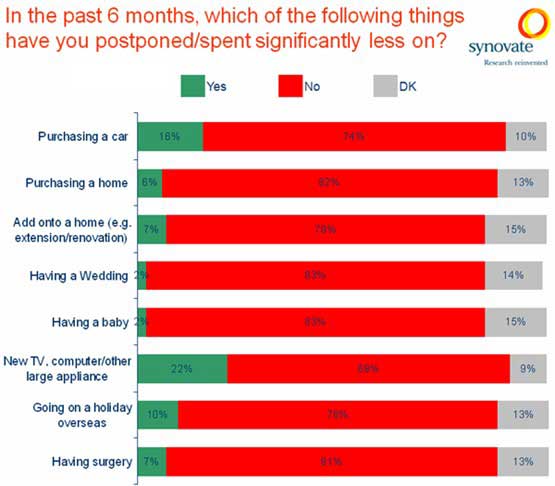 Of those who delayed a major purchase, changed a life decision, or spent less, 45% did so because they didn't have enough money; 11% were waiting for a bargain; and 11% thought it just seemed wrong to spend a lot at the moment.
Playing It Safe
To gauge financial priorities, Synovate asked respondents what they would do if $1,000 landed in their lap today:
More than one-third of Americans (35%) say they would use their $1,000 windfall to pay down debt.
23% would put the money in the bank.
21% would spend the money on necessities.
Only 7% would spend it on something fun.
Over half (51%) of Americans agree that their trust in financial institutions has declined dramatically, and 57% believe that more government regulation is needed for the financial industry. "Only" 28%, however, say they will not invest in the stock market in the future, and 22% say they will not invest in property.
About the data: Findings are from Synovate's In:fact survey on money and finance, conducted in August 2009, surveying more than 11,400 respondents across 16 markets: Australia, Brazil, Canada, Denmark, France, Hong Kong, India, Malaysia, New Zealand, Russia, Serbia, South Africa, Spain, Taiwan, UK, and the USA. In the US, respondents totaled 503.


Enter your email address to keep reading ...
---
You may like these other MarketingProfs articles related to Customer Behavior:
---