Take 10: Three Steps to Start Your Own Word-of-Mouth Marketing Campaign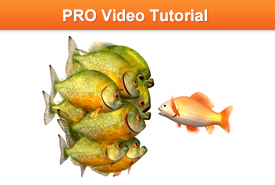 Presenter:

Mack Collier

Released:

Fri, Dec 16, 2016

Length:

10 minutes
Social media provides access to a robust set of digital tools that helps amplify your word-of-mouth marketing (WOMM) efforts. Using them to build a strategic WOMM campaign can result in increased brand awareness, sales, and revenue.
In just 10 minutes, you'll learn three necessary steps to get your word-of-mouth marketing campaign off the ground before you put it into action. You'll leave understanding the differences between fans and influencers, and the benefits of each, so you can identify which one will help you best achieve your campaign objectives.
Don't miss part two, where you'll learn how to put your campaign into action >
Presenter

Mack Collier is a social media strategist based in Alabama. He helps companies build programs and initiatives that let them better connect with their customers and advocates. His podcast, The Fan-Damn-Tastic Marketing Show, discusses ways that brands can turn customers into fans. He is also the author of Think Like a Rock Star: How to Create Social Media and Marketing Strategies That Turn Customers Into Fans.

Who Should Attend?
Anyone interested in building and implementing a word-of-mouth marketing campaign.
What Will You Learn?
By the end of this Take 10, you'll be able to:
Identify the ideal audience for your WOMM campaign
Determine whether you need to work with fans or influencers to achieve your objectives
Select the appropriate tools for your campaign
About Our Take 10 Program
In just 10 minutes, each Take 10 video tutorial features step-by-step instructions on a narrow topic. Packed with takeaways, every episode comes with a handy one-page checklist, so there's no need to take notes. Just download the PDF. PRO members can now watch Take 10 tutorials using the MarketingProfs mobile app. Download the iPhone or Android app, and get smart on the go!
Register Now!
You have two choices. You can pay as you go, buying single sessions that interest you. Or you can buy a PRO membership, and attend all our new PRO seminars and Take 10 webcasts over the next year, plus watch hundreds more from our library on-demand.
Questions?
Call our PRO Hotline: (866) 557-9625