The Content Formula: How to Create and Measure Content That Converts
Presenter:

Michael Brenner

Moderator:

Kerry O'Shea Gorgone

Broadcast:

Thu, Jun 15, 2017, 12pm ET

Length:

60 minutes

Rating:
Businesses routinely struggle with the question of how to demonstrate marketing ROI. In today's digital world, where everything is measurable, you shouldn't have to put up with marketing that doesn't produce results. Content marketing attracts your target audience in a less in-your-face manner than buying your way into their hearts and minds through traditional ads, but measuring its effectiveness is another story.
In this Teach Me How seminar, we'll show you 10 ways you can quantify the return on your marketing through a consistent content approach. You'll also learn how to use content to create an appealing destination that your customers can't wait to visit again and again.
Bonus! Seminar attendees get this How-To Guide!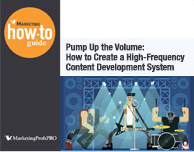 Pump Up the Volume: How to Create a High-Frequency Content Development System
In this content-focused guide, you'll learn how to set up a powerful framework for generating high quality, results-oriented copy using the resources at your disposal.
Presenter

Michael Brenner is the CEO of Marketing Insider Group and co-author of the best-selling book, The Content Formula. Michael is recognized as a Top CMO Influencer, Top B2B Marketer, Leading Content Marketer, and business consultant. He's initiated content marketing strategies for Fortune 50 brands and built thriving communities for tiny start-ups.

Who Should Attend?
Content marketers, writers, and marketers looking to advance their content marketing skills.
What Will You Learn?
By the end of this seminar, you'll be able to:
Build the business case for content marketing at your company
Find the budget to establish a new program
Measure content marketing ROI success in business terms
About Teach Me How Seminars
Teach Me How seminars are live, 60-minute webcasts with actionable, tactical takeaways. Not your typical seminar, these highly interactive events explain a topic in an interesting, engaging, and entertaining virtual setting. Each seminar comes with a detailed How-To Guide and a step-by-step Action Plan. Other seminars tell you what you should do—ours teach you how.
Register Now!
You have two choices. You can pay as you go, buying single sessions that interest you. Or you can buy a PRO membership, and attend all our new PRO seminars and Take 10 webcasts over the next year, plus watch hundreds more from our library on-demand.
Questions?
Call our PRO Hotline: (866) 557-9625