Take 10: Email Marketing Strategies—Out With the Old, In With the New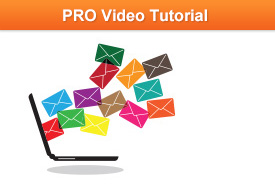 Presenter:

Christina Inge

Released:

Fri, May 15, 2015

Length:

10 minutes
Is your email marketing in need of some spring cleaning? Or, could your email program use a complete renovation? Either way, this spring is the perfect time to revamp your email efforts. Using just a few simple steps, you can make your email marketing fresh and more appealing—and most importantly, a strong driver of sales.
In just 10 minutes, you'll learn how to align your email efforts with changing technology, increase open and click through rates, and grow your email ROI. We'll show you how to create a whole new life for your emails by sweeping away dusty, outdated practices.
Presenter

Christina Inge is the founder and owner of thoughtlight, an agency bringing together content, web design, and events to engage audiences. She has led marketing and communications for emerging tech companies for the past decade, and taught digital marketing, development, and strategy on the college level. She holds an MS in Instructional Technology from the University of Wyoming and a Bachelor's in English from the University of Maryland.

Who Should Attend?
This session is best suited for marketing professionals, small business owners, or anyone involved in email marketing for their organization.
What Will You Learn?
At the end of this Take 10, you'll be able to:
Assess the current health of your email marketing
Identify three email practices to sweep away
Map out four new practices that will drive conversions
Understand the metrics that indicate the relevance of your email marketing
About Our Take 10 Program
In just 10 minutes, each Take 10 video tutorial features step-by-step instructions on a narrow topic. Packed with takeaways, every episode comes with a handy one-page checklist, so there's no need to take notes. Just download the PDF. PRO members can now watch Take 10 tutorials using the MarketingProfs mobile app. Download the iPhone or Android app, and get smart on the go!
Register Now!
You have two choices. You can pay as you go, buying single sessions that interest you. Or you can buy a PRO membership, and attend all our new PRO seminars and Take 10 webcasts over the next year, plus watch hundreds more from our library on-demand.
Questions?
Call our PRO Hotline: (866) 557-9625