How to Improve Your Writing With a Crappy First Draft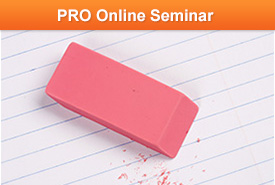 Presenter:

Daphne Gray-Grant

Moderator:

Jennifer Kelly

Broadcast:

Thu, Aug 20, 2015, 12pm ET

Length:

60 minutes

Rating:
People often laugh when they hear the phrase "crappy first draft," but it's a liberating concept and a key tool for most professional writers. A crappy first draft will not only help you write faster, but it'll also give you time to improve the quality of your writing. (This is because no one writes a great first draftónot even Ann Handley or Seth Godin.) The best writing always comes from editing, and the sooner you write your first draft, the sooner you'll be able to edit it.
In this PRO seminar, we'll take a closer look at some of the benefits of crappy first drafts, including how they make you feel better about yourself, allow you to use momentum, and help with planning. You'll leave with an understanding of why you shouldn't be ashamed of a crappy first draft, but rather how to embrace the idea and write faster, better, and more fluently.
Presenter

Daphne Gray-Grant grew up in the newspaper business; her parents owned a struggling weekly where she worked from the age of 16. From there, she became a senior editor at a major metropolitan daily and eventually, she spent four years as director of communications for the newspaper's parent company. Today, she is a communications consultant, writing and editing coach, and the author of the best-selling book 8 1/2 Steps to Writing Faster, Better
. Daphne is the mother of adult triplets, which only serves to cement her reputation as a compulsive over-achiever.

Who Should Attend?
This seminar is for both experienced and new writers. It's best suited for individuals who feel they write too slowly, struggle with meeting deadlines, or find the writing process too painful.
What Will You Learn?
At the end of this seminar, you'll be able to:
Break the editing-while-you-write habit
Establish a writing process that clearly delineates three separate steps: preparing, writing, and editing
Tame the self-critical voice inside your head
Register Now!
You have two choices. You can pay as you go, buying single sessions that interest you. Or you can buy a PRO membership, and attend all our new PRO seminars and Take 10 webcasts over the next year, plus watch hundreds more from our library on-demand.
Questions?
Call our PRO Hotline: (866) 557-9625