A new marketing paradigm is emerging—human-centric marketing, which is an evolution of our current customer-centric approach. And it's beginning to change the way we are introduced to and form relationships with brands.
Before I define human-centric marketing and answer the question "why now?" it makes sense to review why the consumer-centric approach to marketing is falling short:
1. It views people as somewhat passive participants.
2. It measures success by how much merchandise a consumer moves.
3. Rising paradoxes have led consumers to seek more meaningful relations with brands.
The consumer-centric approach to marketing is a result of the information age, which has information technology at its core. It was an economic shift, a move away from older corporate-centered systems defined by large companies to a more people-driven one.
Websites, social networks, blogs, microblogging platforms, and mobile apps now allow people to have a voice. As a result, that shift has driven transparency and global access to products and services in the market. It has changed the dynamics of individual and corporate communications, which have becoming more active, micro, portable, live, informational, improvisational, and personal.
However, one problem with the consumer-centric approach is that it views people as somewhat passive participants in marketing campaigns.
"Consumer-oriented brands' only meaningful metric is how much merchandise they move, and consumers tie their status to how much of a scarce resource they consume," writes Mike Bonifer in his GameChangers. "The model is unsustainable. It is a zero-sum game. If we keep playing it, we are like arsonists watching our own homes burn."
Events such as 9-11, the massive economic downturn of the past decade, and rising paradoxes associated with globalization and environmental disasters, such as BP's oil leak into the Gulf of Mexico and the devastating earthquake in Japan earlier this year, have led people to seek out more meaningful, authentic connections with one another and with brands.

In his Marketing 3.0, Philip Kotler, author of some 20 marketing books, suggests we have been going through a process of social adaptation, organizational readjustment, and changing personal expectation. At first glance, these recent changes seem centered on new forms of informational resources, much as the Industrial Revolution seemed to be powered by new machines and new forms of energy. But a closer examination reveals that the current transformation we are undergoing is broader.
The deep and enduring changes of our age are not technological but social and cultural—indeed, human.
The Emergence of Human-Centric Marketing
Human-centric marketing represents a broader evolution in marketing and embodies many cultural, societal, economic, and technological changes that have occurred over the last decade.
Kotler offers a concise definition of this emerging marketing paradigm: "Human-centric marketing is defined by brands [that] approach engaging their current and prospective customers via advertising and marketing tactics as whole human beings with hearts, minds, and spirits."
The Integral Institute's Robb Smith adds to Kotler's definition, claiming that the companies that will succeed in this next era of marketing will be those that build their brands and entire companies around a serious, deep purpose—an ultimate concern—and then effectively translate that purpose to people with different worldviews and perspectives.
In his book The Rise of the Creative Class, Richard Florida highlights the rise of human creativity in the last decade as being a key factor in our evolving economy and society. Both at work and in other spheres of our lives, we value creativity more highly than ever and cultivate it more intensely.
The "creative class" is now being let loose on an unprecedented scale:
It consists of 38 million members in the US
It makes up more than 30% of the nation's workforce (compared with 10% at the turn of the 20th century)
It accounts for nearly half of all wage and salary income in the US—$1.7 trillion (as much as the manufacturing and service sectors combined).
This emerging trend is not about creating more artists. It's about fostering and embracing those generations that care about and can solve 21st century problems.
Finally, technology has played an integral part in the rise of human-centric marketing and will continue to do so as it leads us into the next evolution of the Web—Web 3.0.
Web 3.0, or the Semantic Web, will be characterized by a massive explosion of connected things—Internet-enabled devices both for people and for objects—and the ability for technology to discern real meaning from the interactions and corresponding data between infinite digital touch points. That dynamic will continue to flatten the world and bring people closer together while increasing the mediation of brands.
The Key Characteristics of Human-Centric Marketing
Angela Koch, director of innovation strategy at innovation consultancy Invitro, suggests that companies need to shift from category understanding to deep human understanding if they are to activate and captivate their relevant stakeholders: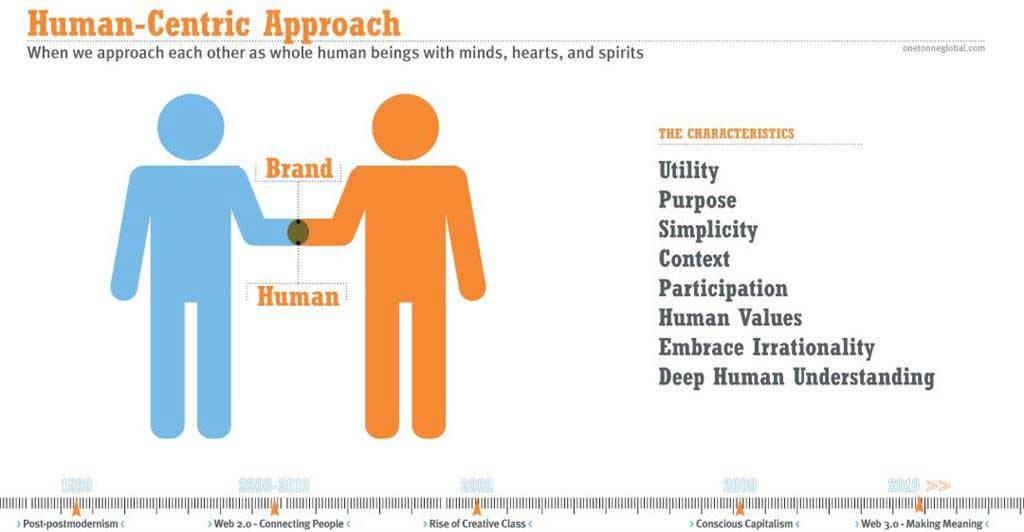 Instead of imagery, a company should focus on utility in its communications.
Instead of being concerned about perception, a brand is better suited to define its purpose.
Instead of complexity and massive content generation, focus on simplicity and context when engaging in dialogue.
Instead of messaging to your audience, seek to engage them in active participation.
Instead of focusing on corporate values, focus on human values.
Instead of relying solely on rationality, be prepared to embrace irrationality… We are only human, after all.
* * *
I look forward to receiving your feedback and continuing the discussion on human-centric marketing.
Did you like this article?
Know someone who would enjoy it too? Share with your friends, free of charge, no sign up required! Simply share this link, and they will get instant access…
---
---