Touchscreen mobile phone adoption in the US grew 159% during the past year to 23.8 million users in August 2009, according to a study by comScore. The substantial growth in touchscreen phone adoption outpaced the already strong 63% growth in the adoption of smartphones.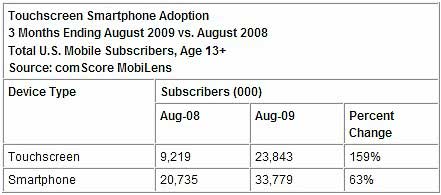 iPhone Devices Dominant
The rate of adoption is being driven in large part by the Apple iPhone family, which owns 32.9% of the touchscreen device market for users 13 years and older. LG Dare follows with 8.7% of market share, LG Voyager with 7.8%, Blackberry Storm with 7.0%, and Palm Treo with 6.5%.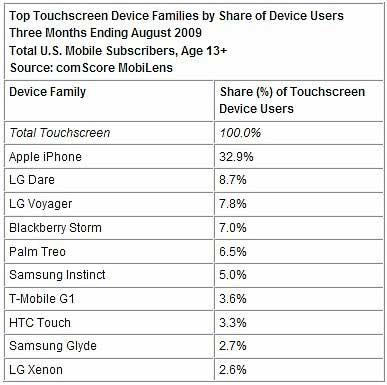 Younger Users Flocking to Touchscreen
Touchscreen devices and smartphones in general are more popular among younger users.
Key findings:
38.8% of all mobile subscribers fall between the ages of 13 and 34.
51.4% of smartphone users are in that age cohort, as are 57.7% of touchscreen device users.
20.6% of touchscreen users fall between the narrow age range of 18-24.
Less than 5% of smartphone and touchscreen device users are age 65 and older, compared with 13% of the total US mobile audience.
Did you like this article?
Know someone who would enjoy it too? Share with your friends, free of charge, no sign up required! Simply share this link, and they will get instant access…
---
---