Average email open rates continued their downward path during 2011 and the first quarter of 2012, though click-through rates (CTRs) increased slightly during the same period, according to Silverpop's Email Marketing Metrics Benchmark Study.
Among some 20 industries studied, the computer software and media and publishing industries were standout performers during the five-quarter period—recording the highest email open rates and CTRs overall. They were followed by the financial services and consumer services industries.
Below, additional findings from the 2012 Silverpop Email Marketing Metrics Benchmark Study.
Some key US findings for the five quarters ended 1Q12:
Open rates averaged 19.9%, down from a 2009 average of 21.3%.
CTRs averaged 5.4%, up from a 2009 average of 4.5%.
Unsubscribe rates (0.27%) were in line with previous studies overall, but varied dramatically by industry type.

For example, the travel and leisure emails were well above that mark, registering a 1.64% unsubscribe rate during the period, whereas nonprofits registered the lowest unsubscribe rate, at 0.10%.
Open Rates
For the study, open rates* are calculated as the number of measured opened messages divided by the number of delivered messages. The average open rate overall was 20.1%, with little variation between the US (19.9%), EMEA (20.9%), and Canada (20.7%).
The dip in open rates is most likely the result of various industry developments, such as email service technology that blocks HTML imagery and features such as Gmail's Priority Inbox (or similar third-party add-ons), according to the report.
Open Rates by Industry
Consumers were more receptive to email messages issued by the computer software industry, with the top performers in that industry achieving open rates of 55.0%.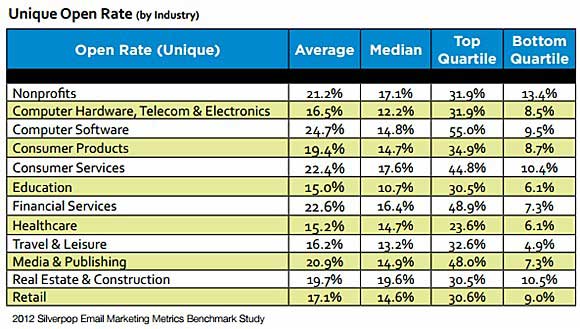 By contrast, travel and leisure and retail achieve some of the lowest open rates recorded during the period.
Silverpop also examined the number of opens per opener across the different regions. The results demonstrate how users tend to open emails more than once, possibly scanning emails via mobile device before later viewing relevant ones via desktop:

Click-Through Rates
CTR is defined in the report as the number of unique clicks on links in the email message divided by the number of delivered emails in a campaign.
The average CTR across the regions was 5.2%, though Canada achieved just 3.8% compared with 5.4% in the US and 5.1% in EMEA.
Among various industries, computer software was once again a strong performer, although media and publishing led the pack.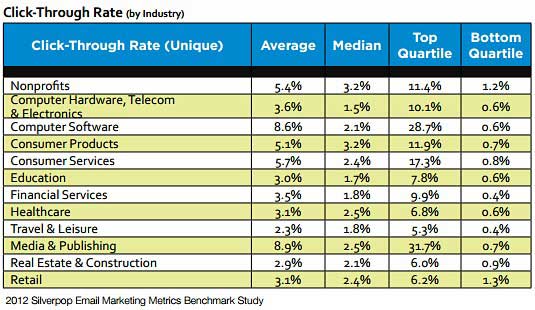 CTR performance achieved by the computer software, media and publishing, and consumer services may be due to a tendency among those industries to deliver content lighter on sales-related messaging and heavier on news, information, and educational materials, according to the report.
Unsubscribe Rates
A good indicator of reader disengagement, unsubscribe rates are defined as the percentage of delivered email messages that generate unsubscribe requests.
Across the regions, the average unsubscribe rate was fairly low at 0.31%, though it climbed to 1.05% for the worst performers.
Looking at unsubscribe rates by industry, travel and leisure registered a particularly high rate, which rose to 6.77% in the bottom quartile. Computer software was again a top performer, though nonprofits recorded the lowest average.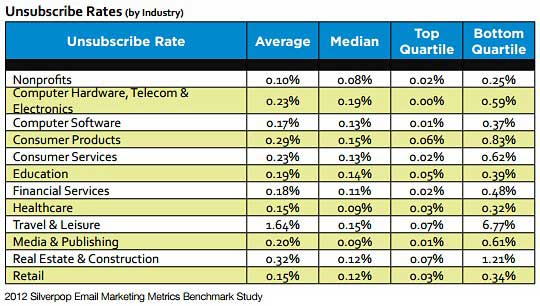 The results for the travel industry are likely due to the nature of the industry—people often subscribe when researching or booking a vacation, then unsubscribe once the trip is complete.
*Open rates, calculated on the basis of opened messages, include emails in which images were enabled, as well as "implied opens" on text messages that recorded a click on a link or an HTML message whose viewer didn't enable images but clicked on a link.
About the data: Findings for the 2012 Email Marketing Metrics Benchmark Study are based on the analysis of email messages sent in 2011 (all four quarters) and the first quarter of 2012 by Silverpop's Engage client base. Researchers looked at all messages sent by 1,124 brands from 20 countries.

Continue reading "Email Open and Click Rates: Benchmarks and Trends" ... Read the full article
Subscribe today...it's free!
MarketingProfs provides thousands of marketing resources, entirely free!
Simply subscribe to our newsletter and get instant access to how-to articles, guides, webinars and more for nada, nothing, zip, zilch, on the house...delivered right to your inbox! MarketingProfs is the largest marketing community in the world, and we are here to help you be a better marketer.
---
Sign in with your preferred account, below.
---
You may like these other MarketingProfs articles related to Email Marketing:
---