Hello, It's Me... The Adele Guide to Doing Email
Presenter:

Michael Barber

Moderator:

Kerry O'Shea Gorgone

Broadcast:

Thu, Apr 20, 2017, 12pm ET

Length:

60 minutes

Rating:
Let's face it, Adele is an a-ma-zing singer, but is she amazing at email? Debatable, but one thing that's not in question is that Adele and email do have a few things in common. Like Adele, email marketing has a ton of raving fans. More people are subscribing to and engaging with email campaigns than ever before and companies continue to see impressive ROI from email marketing. (Also, fans of both undoubtedly know the lyrics to a few of her songs!)
In this Teach Me How seminar, you'll learn which email engagement tactics and best practices will ensure your emails stand out, get opened, and generate the ROI you seek. You'll leave with resources upon resources to help you develop awesome emails that Adele would open and approve!
Bonus! Seminar attendees get this How-To Guide!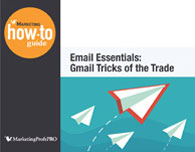 Email Essentials: Gmail Tricks of the Trade
In this Gmail-focused guide, you'll learn how to ensure that every one of your messages makes it into the inbox (or perhaps even into the esteemed "Primary" tab), how to establish lasting trust with both Gmail and its billion-strong user base, and how to generate measurable results from your Gmail marketing.
Presenter

Michael Barber is the founder of barber&hewitt, a consultancy dedicated to helping brands blend creative and data to tell better stories, execute exceptional strategy, and develop better teams and products. For over a decade, his teams have consulted with a broad range of clients including Kroger, Kraft Foods, Right Guard, Purex, UBISOFT, Fremantle Media, Swingline, and Henkel.

Who Should Attend?
Anyone involved in developing and measuring email campaigns.
What Will You Learn?
By the end of this seminar, you'll be able to:
Identify the most current and industry-recognized email engagement and ROI stats
Develop a toolkit of email design and development best practices for modern campaigns
Tell the difference between good vs bad email campaigns
About Teach Me How Seminars
Teach Me How seminars are live, 60-minute webcasts with actionable, tactical takeaways. Not your typical seminar, these highly interactive events explain a topic in an interesting, engaging, and entertaining virtual setting. Each seminar comes with a detailed How-To Guide and a step-by-step Action Plan. Other seminars tell you what you should do—ours teach you how.
Register Now!
You have two choices. You can pay as you go, buying single sessions that interest you. Or you can buy a PRO membership, and attend all our new PRO seminars and Take 10 webcasts over the next year, plus watch hundreds more from our library on-demand.
Questions?
Call our PRO Hotline: (866) 557-9625