Artificial Intelligence for Marketing: Getting Started
Presenter:

Jim Sterne

Moderator:

Kerry O'Shea Gorgone

Broadcast:

Thu, Sep 21, 2017, 12pm ET

Length:

60 minutes

Rating:
Artificial intelligence (AI) is having its moment. Maybe you've heard rumors about how it's going to take your job, or how it poses an 'existential risk' to humanity. But there's a lot to like about AI, including how you can harness it and its trusty sidekick, machine learning (ML), to transform your company's marketing strategy.
In this Teach Me How seminar, you'll learn about artificial intelligence and its useful features, including natural language processing and speech recognition. You'll discover the power of machine learning and understand how to make the most of these technologies to deliver better data insights, customer experience, and more.
Bonus! Seminar attendees get this How-To Guide!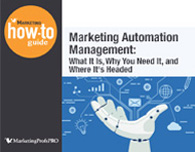 Marketing Automation Management: What It Is, Why You Need It, and Where It's Headed
In this guide, you will learn about the capabilities of marketing automation (MA) systems, ways to best use them, and resources for learning more. Then you'll fast-forward to a time (soon) when some MA functions will be taken over by machine learning (ML), preparing the way for artificial intelligence (AI) to step in. As MarketingProfs speaker Jim Sterne says, "It's OK to use a calculator as long as you understand what long division is all about."
Presenter

Jim Sterne is an international consultant who focuses on measuring the value of creating and strengthening customer relationships. He's written eight books on interactive marketing, is the founding president and current board chair of the Digital Analytics Association, and produces the eMetrics Summits.

Who Should Attend?
Anyone who wants to understand artificial intelligence and machine learning and how it can help with their marketing strategy.
What Will You Learn?
By the end of this seminar, you'll be able to:
Understand what artificial intelligence encompasses
Recognize what machine learning can (and cannot) do for marketing
Adopt both technologies into your marketing efforts
About Teach Me How Seminars
Teach Me How seminars are live, 60-minute webcasts with actionable, tactical takeaways. Not your typical seminar, these highly interactive events explain a topic in an interesting, engaging, and entertaining virtual setting. Each seminar comes with a detailed How-To Guide and a step-by-step Action Plan. Other seminars tell you what you should doóours teach you how.
Register Now!
You have two choices. You can pay as you go, buying single sessions that interest you. Or you can buy a PRO membership, and attend all our new PRO seminars and Take 10 webcasts over the next year, plus watch hundreds more from our library on-demand.
Questions?
Call our PRO Hotline: (866) 557-9625