From Awareness to Advocate: How to Build an Email Nurturing Campaign That Converts and Keeps Them Coming Back
Presenter:

MaryAnn Pfeiffer

Moderator:

Kerry O'Shea Gorgone

Broadcast:

Thu, Nov 16, 2017, 12pm ET

Length:

60 minutes

Rating:
As marketers, we're familiar with the concept of the funnel, but getting customers from one end to the other can be demanding and (sometimes) tedious. And once they buy, you've got to start all over again!
What if you could set up an email nurturing campaign that effortlessly took your prospects from the first stage of the funnel all the way through to conversion, and then turned them into devoted brand advocates who not only come back for more, but spread the gospel of your product or service?
In this Teach Me How seminar, you'll learn how to develop an effective nurturing campaign strategy that will move your prospects from lead to (loyal) customer, helping you build an ongoing relationship to foster brand advocates. You'll also see some real-world examples of how these campaigns are used for B2B and B2C organizations to help you create a library of tactical ideas.
Bonus! Seminar attendees get this How-To Guide!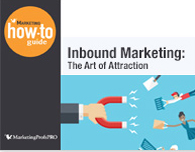 Inbound Marketing: The Art of Attraction
In this guide, you'll learn to look at the customer relationship at every stage of the buyer's journey, from determining if there's a mutual attraction to building a relationship based on shared interests and values. You'll learn how to establish a strategy, develop content for each stage of the buying cycle, and distribute your content to maximize its reach.
Presenter

MaryAnn Pfeiffer is the founder of 108 Degrees, an award-winning digital marketing agency specializing in small business and non-profits. Her career in email marketing began when "you've got mail" was the most popular sound on a personal computer, and twenty years later it continues to remain one of the most effective tools she uses to build her clients' reach. MaryAnn develops email campaigns alongside social media and content marketing to deliver comprehensive programs for clients.

Who Should Attend?
Anyone responsible for email campaign strategy, planning, or execution.
What Will You Learn?
By the end of this seminar, you'll be able to:
Define the stages in your marketing funnel and pinpoint where you can apply an email nurturing campaign strategy
Build a nurturing strategy to lead your prospects through the funnel
Develop a post-sales strategy that will foster customer advocacy
About Teach Me How Seminars
Teach Me How seminars are live, 60-minute webcasts with actionable, tactical takeaways. Not your typical seminar, these highly interactive events explain a topic in an interesting, engaging, and entertaining virtual setting. Each seminar comes with a detailed How-To Guide and a step-by-step Action Plan. Other seminars tell you what you should doóours teach you how.
Register Now!
You have two choices. You can pay as you go, buying single sessions that interest you. Or you can buy a PRO membership, and attend all our new PRO seminars and Take 10 webcasts over the next year, plus watch hundreds more from our library on-demand.
Questions?
Call our PRO Hotline: (866) 557-9625