The decision of which segments to choose is perhaps one of the most difficult challenges for a firm. The reason? Firms often identify a greater number of attractive segments that they are capable of pursuing, given their limited resources. It is tempting to enter all segments (see the tutorial on segment coverage), especially those that are growing and represent potentially great profits. In marketing, while we recognize these possibly profitable segments, we take into consideration all parts of the analysis to make sure the firm doesn't enter into segments which ultimately requires resources the firm doesn't possess (in particular, with respect to satisfying customer needs and not being overwhelmed by the resources of competitors).
While there are many ways to think about which segments to enter, a simple but powerful way is to draw on the analysis in the previous tutorials. This can be represented as follows: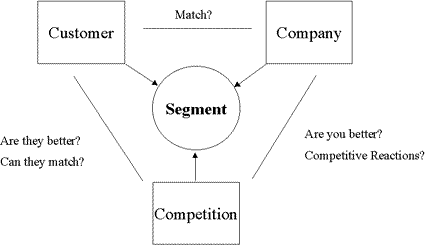 In essence, for each segment you examine your customer analysis. Look at the perceptual map and what the customer in the segment wants. Do customers perceive your product (or could they, if you don't currently have a product) as better on on the benefits they care about? Can the competition match by offering benefits that customers will perceive as better?
Look at your competitor analysis. Are you better than the competition? Are they improving or neglecting abilities to offer benefits that customers in the segment care about? If you played out a game with the competitors, who would win?
Think carefully about your company analysis. Don't focus only on your competencies, but focus as well on you weaknesses. If you choose to compete in this segment, do you have weaknesses that need to be improved, and can you improve them? Think broadly about this, including the culture of the firm. Is the culture consistent with entering this segment (this improves the possibility of resources being devoted to this segment).
In addition, there are a number of other factors that make a segment attractive that must be considered when making this decision. These might include the following:
Segment Size: The sales potential of the segments, in terms of number of units of your product that can be sold, might be important in making segments attractive. This might be because a firm requires a large potential customer base to take advantage of cost reductions through volume sales.
Segment Profitability: How profitable the segments are, in terms of how much money can be quickly made, might be important in making segments attractive. Perhaps this is because a company requires cash in the near term. Note that profitability (in this case short term profitability) is not a necessary condition for entering a segment.
Segment Sales Growth Rate: The growth rate might be important in making segments attractive. Perhaps this is because a firm requires high-growth areas to ensure future profitability.
Low Bargaining Power of Customers: Segments might be attractive because customers do not have power to bargain over such things as price and service. This might be attractive to a firm that is not good at providing service and can not reduce costs.
Seasonality and Cyclicality: Segments might be attractive because the production schedules and/or allocation of resources give a firm great freedom in responding to seasonal or cyclical conditions.
The key point to remember when making this decision is that all parts of the analysis are relevant. Don't just focus on the company's competencies. While important, this doesn't indicate anything about what customers care about. But just focus on what customer care about since this doesn't inform you about competitive reactions.
Finally, now is also a good time to ask the what-if questions that challenge the assumptions you needed to make in your analysis. Does entering this segment rely on a key assumption you needed to make in your analysis. If so, then the decision to enter the segment is probably not robust.
If the analysis indicates entering a segment, you are ready to position your product. If it indicates otherwise, then you'll need to think hard about the obvious challenges you will definitely meet when entering this segment...be prepared to lose.


Enter your email address to keep reading ...
---
You may like these other MarketingProfs articles related to Segmentation:
---