Sometimes doing a little more for our email subscribers can make a lot of difference. Tafford Uniforms (www.tafford.com) of North Wales, Pa., faced a challenge to engage email subscribers because of two common but seemingly incongruent realities.
First, customers (mostly nurses and hospital workers) make purchases only two to three times a year. So emailing them every week means that you've got a 6% chance of hitting the subscriber "in market" and ready to buy and a 94% chance of being completely irrelevant. That suggests a lower email frequency that matches the customer buying cycle.
Second, every time a message is broadcast, it generates some revenue, which becomes a nice habit, especially when you've got to hit a specific number each quarter. That encourages the team to increase email frequency.
Because the email-channel revenue is so tempting, Tafford now emails subscribers three times a week, according to David Kaplan, VP of Marketing at Tafford. Every message is a pure promotion, with subject lines such as "Scrubs from $8.99" and "Last Chance for Free Shipping on Thousands of Items."
Although these campaigns still generate revenue (after all, 6% of the audience is in market), the high-frequency strategy was starting to increase the churn rate (unsubscribes because of customer fatigue) and inbox deliverability was at risk due to higher complaints. (Complaints are tracked every time a subscriber gets fed up and clicks the Report Spam button.)
Creating custom subscriber experiences is the right way to reverse customer churn and complaints—as well as improve inbox deliverability, response, and revenue. That brings us to a second set of two seemingly incongruent realities:
Creating customized email experiences is likely to increase customer conversion and average order size, increasing revenue from the channel.
Creating customized email experiences requires some additional effort, data integration, creative, and staff time, costing money and time—both of which are scarce.
So Tafford took a middle road: It made a few simple changes—those that do not require massive data integration—at points in the customer life cycle that are particularly vulnerable to opt-outs or spam reports.
The key touch points are at the point of sign-up and just after a purchase, according to Kaplan: "These are the times when we know she's at least thinking about her uniform needs."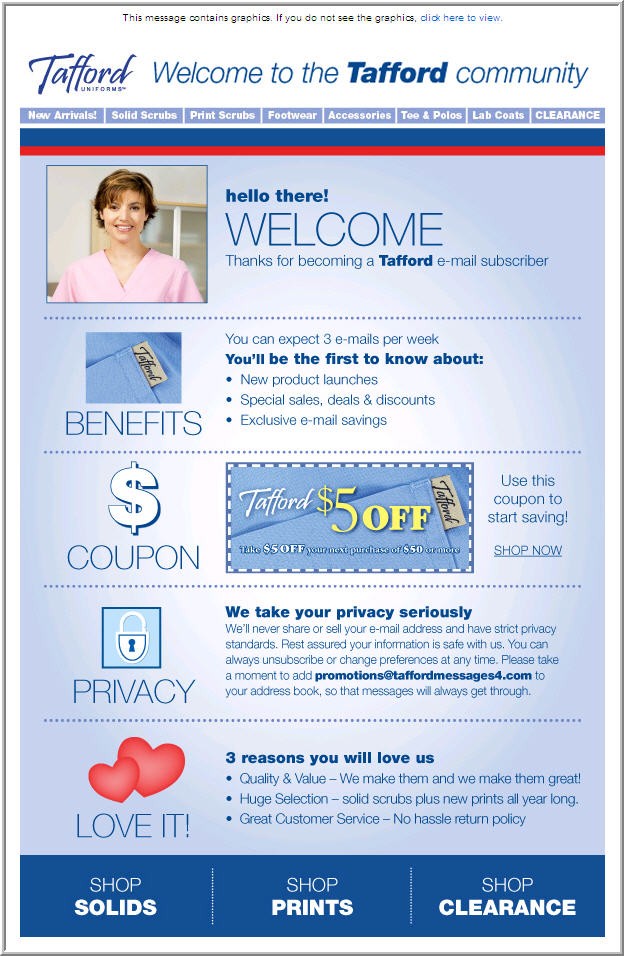 Tafford launched a new welcome series of four messages in the first two weeks for every new subscriber.
The welcome message sets the tone. It clarifies the frequency (three times a week), lists the benefits, and provides a $5-off coupon. The "3 reasons you will love us" section at the bottom is also a nice touch. The tone and tenor are casual and friendly, in keeping with the brand attributes around personal service and knowledge of this specialty-apparel market.
Although the program cadence is three per week, it is twice a week for the first two weeks. This slower pace helps ease in new subscribers, and Tafford has found that engagement (measured by opens and clicks in the first month) is on the rise.
The other three messages in the series focus on the program's benefits, a great discount, and a reminder to set preferences (and add more information to your account).

Frequency is a challenge. "We want to be in the inbox the day you get blood on your scrubs," said Kaplan. "We see competitors and other marketers increasing frequency, and there is pressure for us to do the same."
"We've run long-term frequency tests and found that three times a week is the best balance for higher revenue, even with higher list churn," he said. "I'm also testing to see if cadence makes a difference, using some of the RFM [recency, frequency, and monetary value] methods we know work in our catalog operation. For example, we reduce frequency for unengaged customers (no opens or clicks) and offer an opt-down at the point of unsubscribe."
Next up is an abandoned-cart trigger as well as a post-purchase suppression and follow-up survey. "The number of customers who purchase twice in a month is under 10%, so there is no need to hammer them with up to 11 more messages that month," Kaplan said.
Tafford is building a post-purchase series that starts just after the order and shipping confirmations. The series will include "Did you forget anything?" reminders (and coupons), a thank-you note with survey, and a bounce-back coupon, based on the best selling merchandise in the catalog.
"For a long time, I could not figure out how to send less email without sacrificing revenue," Kaplan said. Looks like he's hit on the answer: Send less when the subscriber is most vulnerable (and less likely to buy), and send more targeted messages when you know a subscriber is in market.

Enter your email address to keep reading ...
---
You may like these other MarketingProfs articles related to Email Marketing:
---