Despite the current economic climate, businesses are spending to reach the US Latino market. In fact, more than $5 billion was aimed at that market in 2008, according to TNS Market Intelligence.
And according to the Selig Center for Economic Growth at the University of Georgia's Terry College of Business, the share of buying power that Latinos control will grow to 10%, or $1.4 trillion, of the US total by 2013. That puts Hispanics ahead of all other minority groups, including African Americans.
Accordingly, Hispanics are an important audience for businesses to continue to reach. However, from a language standpoint, doing so is not as simple as you may think.
Ensure Authenticity: Translation vs. Transcreation
Language is used to describe how we experience and see the world. It's about the spoken word and how we interpret what's being said or read. Latinos have a very experiential culture. They are driven by emotion and direct experience. They are not driven by data.
To successfully reach the Hispanic audience, marketers should understand that what works with the general market can't simply be transferred to the Latino market. Instead, messages must be culturally adapted to capture the thought, meaning, and feeling, not just the words.
"If you translate information without adapting your message, you're branding your appeal in a way that is not attractive or effective," says Diego Basabe, business development manager at viaLanguage, which focuses on limited-English population translations and transcreation services.
"Marketers who culturally adapt or transcreate see their investment returned immensely.
"For example, our localization of the San Francisco Health Plan website into Spanish and Chinese led to a 50% increase in website hits, which translated into a 25% increase in their membership. In this case, website cultural adaptation paid off for them—huge," says Basabe.
Regence BlueCross BlueShield
Regence BlueCross BlueShield is a nonprofit health plan that serves members in Oregon, Washington, Idaho, and Utah. Regence is the largest health insurer in the Northwest/Intermountain region and has some 2.5 million members.
Francisco Garbayo is the leader and content expert for Regence's Latino initiative. Recognized for building relationships in the Latino community, Garbayo delivers astute marketing strategies to help build Latino membership at Regence.
"Growth numbers alone predicate that we should address this market; but, beyond that, it is a population that has experienced some serious health disparities, particularly when it comes to health care. Latinos are an underserved population, and we want to help change this," says Garbayo.

Marketing: Current Model vs. Latino Model
You can't apply an Anglo marketing model to reach Latinos. For most Latinos, the family is center and often isn't considered traditional by Anglo standards. Instead, it's an extended family and community with a belief in the collective "we" and a focus on cooperation instead of competition.
In many cases, Latinos buy to enhance their experience with family and community. Their decisions are based on cultural norms and word-of-mouth. Their brand loyalty is high compared with that of Anglos and passes from generation to generation.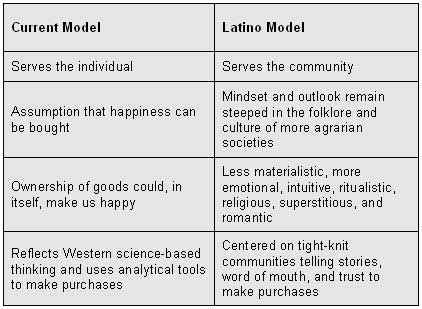 "Take our previous Regence brand tagline, 'Together we can take charge,' which didn't resonate well with Latinos," explains Garbayo.
"So, for our Latino outreach, we worked with our marketing department to keep the brand but modified it to 'Juntos podemos,' or 'Together we can.' That changed the meaning from 'take charge' to 'we can do it,' which is a more suitable message for the Latino community."
Regence's Net Promoter score (NPS), a customer-loyalty metric, grew significantly, confirming that Regence was communicating the right message.
Tips for Cultivating Relationships
Keeping with Latino preferences, Regence primarily uses radio, TV, print, and community outreach. Direct-mail pieces aren't effective.
"Our campaigns are educational vs. being advertised to," explains Garbayo. "We run our 'Health Minute' on Latino TV stations instead of running a sales-focused ad about our insurance plans, for example."
Latinos are loyal radio listeners and spend an average of 26 to 30 hours each week listening to the radio. That's 13% more than the rest of the population, so radio spots make sense.
Cultivating relationships within the community is very important. Find community leaders and thought leaders you can partner with. If it's the right message, they'll want to support it; and if it helps the community, it's accepted.
Great Results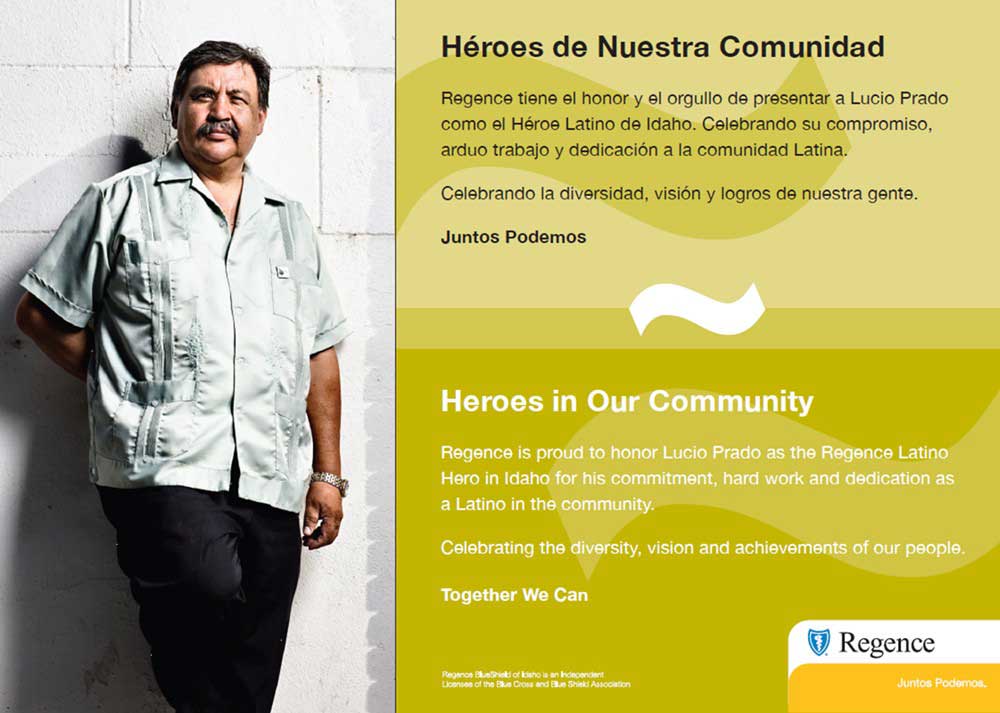 The Regence Idaho print piece (above) uses a recognized community hero, depicting success as a Latino, leadership, and community roots.
The Latino market offers great potential for US businesses. Direct translations and general market strategies tend to miss the emotional and culturally relevant elements. You'll achieve some results from employing those tactics, but not the sales volume, power, and recollection that a truly culturally attuned marketing and advertising effort can attain.
Approaching the Latino market in a culturally sensitive way can improve your success greatly.

Enter your email address to keep reading ...
---
You may like these other MarketingProfs articles related to Marketing Strategy:
---