E-commerce sites can be particularly challenging for search-engine optimization (SEO) because they tend to lack unique, relevant content.
Most e-commerce websites contain mostly navigational pages (with little content) and product pages (with mostly duplicate content).
The challenge is easily (though not necessarily quickly) overcome, however, with a simple content strategy.
This article outlines five content techniques that I have used successfully on various e-commerce websites. Some of those techniques will be better suited than others to certain types of e-commerce websites. Accordingly, you might use just one or more of them on your own website, as appropriate.
1. Write Category Descriptions
For many e-commerce websites, optimization for primary keywords will focus on their category pages. The problem is that most category pages have little content, comprising mostly images and links.
An effective way to overcome that challenge is to write descriptions or introductory copy for each category, to be displayed above or below the product listings.
Zappos.com, for example, places a lengthy description (more like an article) at the bottom of category pages. Note how the descriptions include embedded links to other category pages.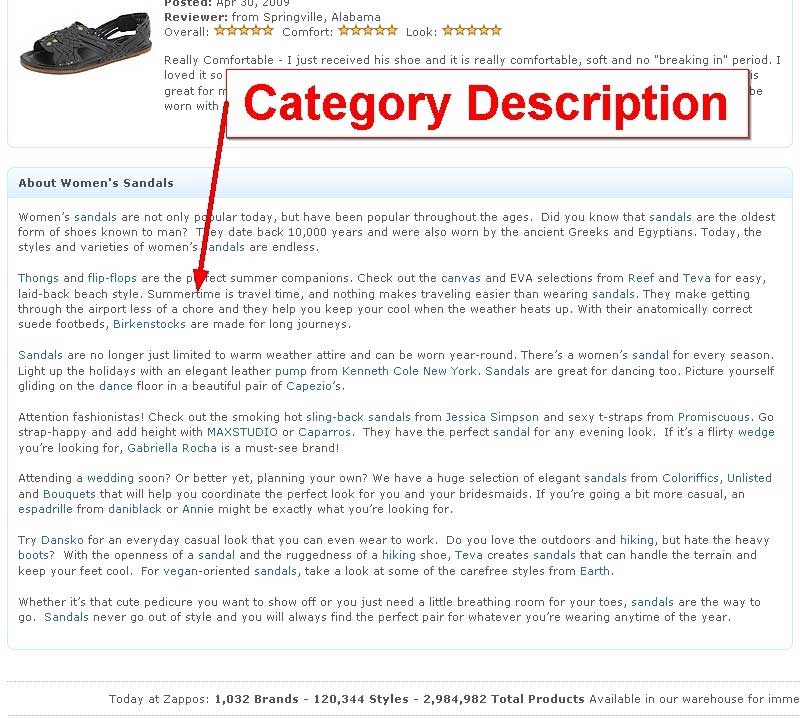 2. Rewrite Product Descriptions
Although category pages may be the focus for primary keywords, product pages offer a wealth of long-tail keyword opportunities. The challenge, of course, is that in many cases product pages use manufacturer-provided descriptions, which are duplicated across many other e-commerce websites.
One solution is to rewrite product descriptions to make themunique. Although that may not be practical to do for every product on your website, you could start with a short list of the products that offer the greatest SEO opportunities.
Select the products for which your site isn't ranked No. 1 but which would bring excellent returns if they were ranked higher.
3. Write Expert Product Reviews
One excellent strategy for adding keyword-targeted content to an e-commerce site is to write and publish expert product reviews.
Those in-depth product reviews could include images, video, detailed product testing and analysis, and other value-added content that shoppers would find useful.
See classic examples of such product reviews at CNET: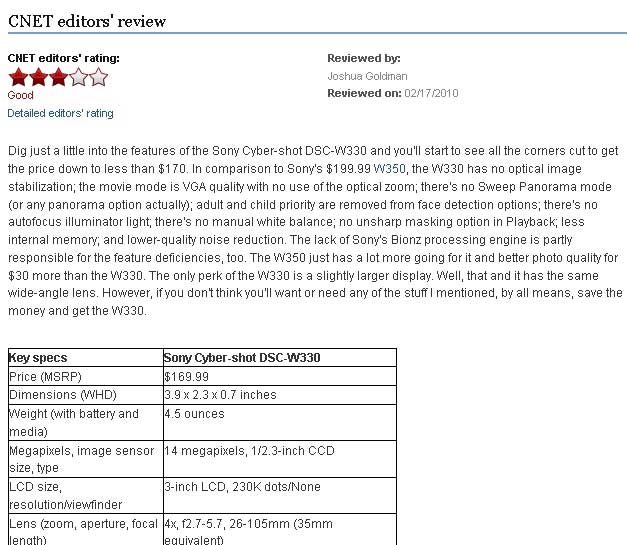 4. Create Mish-Mash Pages
Mish-mash pages are pages that include various types of content targeted at a specific keyword.
To create a mish-mash page, start by selecting the keyword you want to target. Then write a very short article or relevant content about that keyword and place it at the top of the mish-mash page.
Below that introductory content, include links to relevant products or product categories on your website. Elsewhere on the page, include images, videos, reviews, guides, or any other relevant content you may have on your site.
The result is a strong keyword-targeting page filled with very useful, relevant content—perfect for users and search engines alike.
5. Write Buyer Guides
Buyer guides are in-depth articles teaching consumers what they need to know to select and purchase the best product for their needs. The guides are especially useful for products that may require specialized knowledge to understand.
For example, consumers on average know very little about computer specifications or how to choose the right computer for their needs, so a buyer guide may be very useful for a website that sells computers.
Buyer guides can very easily be optimized for primary or secondary keywords because they typically have keyword-rich content.
Outdoor outfitter Cabela's offers some good examples of buyer guides on its website: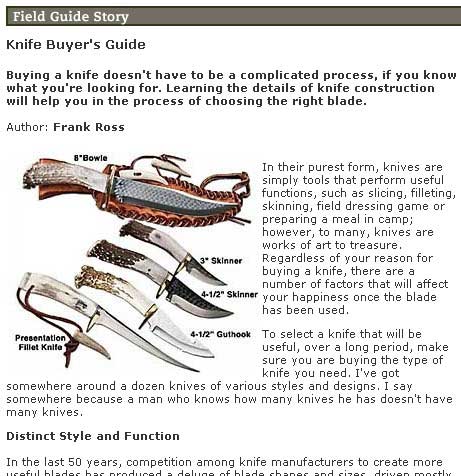 How to Add the Content
Depending on the e-commerce software your website runs on, it may be very easy to add the types of website content described in this article, or it could be rather difficult.
Mish-mash pages are most easily created if you add a custom feature for creating them to your e-commerce software.
Other types of content can be easily added through a simple content management system (CMS). If your e-commerce software includes a CMS, great; otherwise, you can just add a CMS to your website.
Open-source CMSes Drupal and WordPress are two of my favorites; both are easy to install, customize, and integrate with your current website.

Continue reading "Five Ways to Get Unique, Keyword-Relevant Content on Your E-Commerce Site" ... Read the full article
Subscribe today...it's free!
MarketingProfs provides thousands of marketing resources, entirely free!
Simply subscribe to our newsletter and get instant access to how-to articles, guides, webinars and more for nada, nothing, zip, zilch, on the house...delivered right to your inbox! MarketingProfs is the largest marketing community in the world, and we are here to help you be a better marketer.
---
Sign in with your preferred account, below.
---
You may like these other MarketingProfs articles related to Search Engine Marketing:
---