Earlier this year, I participated in a 14-city roadshow on revenue marketing with my buddy Jim Lenskold of the Lenskold Group. An expert on marketing return on investment (ROI), Jim has authored a book on the topic, published research, and worked with large, enterprise customers to improve their marketing ROI.
The showstopper for me was one of Jim's presentation slides titled "Five Main Opportunities to Improve ROI":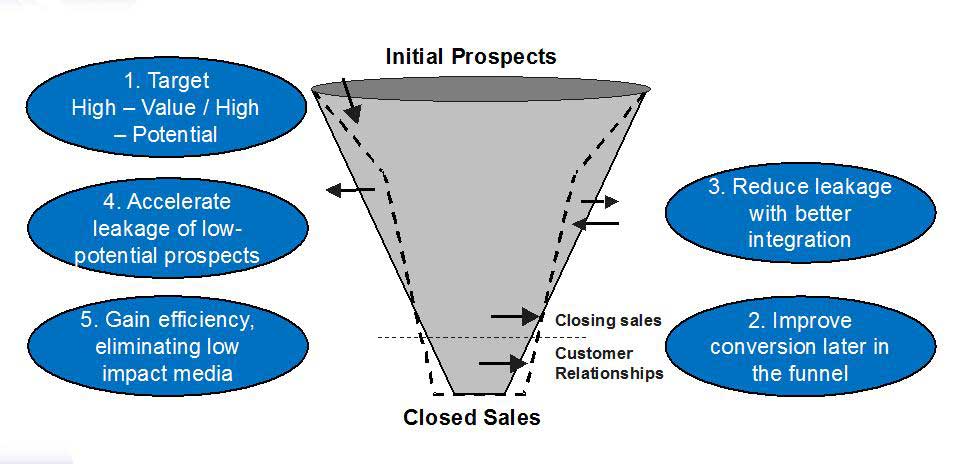 Source: Lenskold Group
What I like about that slide is how strongly it validates the impact of marketing automation on the sales cycle. Furthermore, it details five scenarios for how marketing automation tools help drive revenue.
Curious about the five ways marketing automation generates ROI? Here they are, listed in order, from highest to lowest impact.

1. Target high-value, high-potential leads
Sounds so simple, doesn't it? Yet, many marketers brush over that key element of segmentation. Yet it is one of the most powerful features of marketing automation in that it allows you to segment at any stage of the client buy cycle, and do so automatically.
Lead scoring, personalization, and automatic segmentation based on behavior can be a huge ROI winner. Interestingly, the more mature the revenue marketer is in her overall competency, the more focused she is on No. 1: targeting high-value, high-potential leads.
2. Improve conversion late in the funnel
Think you can't do that? With marketing automation, you can—and should—because the math is crazy. For most clients, improving conversions late in the funnel is an area of low-hanging fruit and has a huge impact.
For example, a client of my firm converts only 2% of all trials. A trial occurs very late in the cycle, and a 1% uptick in conversion rates has an immediate and incredible impact on revenue and marketing ROI. So the plan is to use the client's marketing automation system to more effectively nurture the experience, and to do it dynamically based on the response to and use (or nonuse) of the program during the trial.
3. Reduce leakage with better integration
We call this approach "No Good Lead Left Behind," and with marketing automation the upside is big. Take the time to map out the life of a lead, from cold lead to close, and look at those key areas where leads are leaking or pouring out of the process. Once you understand where and why leads are leaking, you can plug those leaks with automatic nurturing via your marketing automation system, especially when it is integrated with your customer relationship management (CRM) tool.
The example given in No. 2 also serves as an excellent example here. Another example would be a lead that is passed to Sales when the lead is not ready. Typically, that lead will be lost or rebought at a later date. With marketing automation, the sales rep can place that lead back into a nurturing program with two clicks, or Marketing can set up an automatic sweep of aged leads that'll put them back into the nurture program. Easy.
4. Accelerate leakage of low-potential prospects
In other words, take out the trash frequently. Removing that noise and distraction from the system can have huge benefits for both ROI and Marketing-Sales relations. By working on data quality and instituting a highly effective lead-scoring program to take out the trash early, you can diminish that noise and the revenue drainers.
5. Gain efficiency and eliminate low-impact media
Efficiency and spending money on high-return marketing programs are the hallmarks of an effective marketing automation program. The top reason marketers buy marketing automation software is to attain proof of results and to help them make decisions.
Ever fought with Sales about the effectiveness of going to a tradeshow or on running an ad? Marketing automation, and the reporting that comes with it, will enable you to have a business discussion with proof points.
* * *
The ROI discussion for marketing will not go away or die down. That is the new reality for today's marketing organization. Using tools, people, and processes to effectively contribute to revenue and demonstrate ROI is job one for all revenue marketers.

Continue reading "Five Proven Ways to Improve ROI Using Marketing Automation" ... Read the full article
Subscribe today...it's free!
MarketingProfs provides thousands of marketing resources, entirely free!
Simply subscribe to our newsletter and get instant access to how-to articles, guides, webinars and more for nada, nothing, zip, zilch, on the house...delivered right to your inbox! MarketingProfs is the largest marketing community in the world, and we are here to help you be a better marketer.
---
Sign in with your preferred account, below.
---
You may like these other MarketingProfs articles related to Marketing Strategy:
---