Blogs are one of the most valuable content marketing tools that businesses have to engage with and educate their prospects and customers. But many businesses still aren't taking advantage of what is a great opportunity to directly share information and expertise.
At my company, we encounter that issue all the time. Companies either don't blog at all or they don't create enough of the right kind of content in their blog. Why? Usually because they don't have a blog editorial strategy.
A solid blog strategy will help you create relevant content on a regular basis to attract the people you are trying to reach and help your business convert those readers into customers.
Here are six steps to creating a successful blog strategy that delivers results for your business.
1. Define your audience
Though this first step may seem obvious, many businesses cannot define their exact audience. Identifying your target audience (i.e., whom you are talking to) is the first thing you need to do before even thinking about starting a blog. Be as specific as possible when determining who you are trying to reach.
For example, if you are a winery with a fab Cab, talk about the Cabernet grape, your harvesting process, and great food pairings for your best vino. Don't try to talk to every wine lover in the world or to Chardonnay fans. Be as focused as possible to generate the best results—increased readership, response, feedback, and customer calls.
2. Pinpoint clear goals
Just as you have a reason for being in business, you have to have a reason for starting a blog. Creating a blog without setting goals is like building a house without a plan: it would likely fall apart without a strong foundation.
Think about what you want your blog to accomplish. Do you want to attract more website visitors? Elicit comments and direct interaction with customers? Position your company as an industry expert? Setting clear goals for your blog is essential to blogging success.
Here are a few questions to consider to help you determine what your audience might want to know about and how you can fulfill its needs.
Is your customer service department answering the same questions all the time?
Has someone recently asked you an interesting question that others might want to know about, too?
Are people asking similar purchasing or usage questions about your products or services?
Are any hot topics in the news related to your industry?
Are other industry blogs covering related topics that you could expand on?
3. Establish your voice
If you don't establish a consistent tone and voice for your blog, you will confuse people and dilute your messages. Consistency of message and delivery is the key to really connecting with your audience. You certainly don't want to come across as a company that's unsure of its identity. Many organizations make the mistake of posting with a different voice or perspective throughout their blog.
Consider the following questions up front:
Are you talking in the first person (I) or in the third person (we)?
Is your company's voice fun, expert, witty, professional, or conversational?
Are you featuring different bloggers from your organization, and does each have a unique perspective?
4. Create a blog editorial calendar
A blog editorial schedule or calendar is the holy grail of blogging. If you have an editorial schedule, you won't be left staring at a blank screen, thinking... "What am I supposed to blog about?" An editorial schedule helps you plan not only what you are going to say but also when and how often you're going to say it.
Now that you know who you're creating content for and why, you can create an editorial calendar with publishing dates, blog categories, keywords, blog titles, and even columns for social media posts promoting your content.
Identify 3-5 content buckets or categories that will help you organize and streamline your topics for consistency. Those categories should repeat throughout your editorial calendar to help guide your content, keep your blog on track, and meet goals.
You can create an editorial calendar really simply, using Microsoft Excel to start. Here is an example: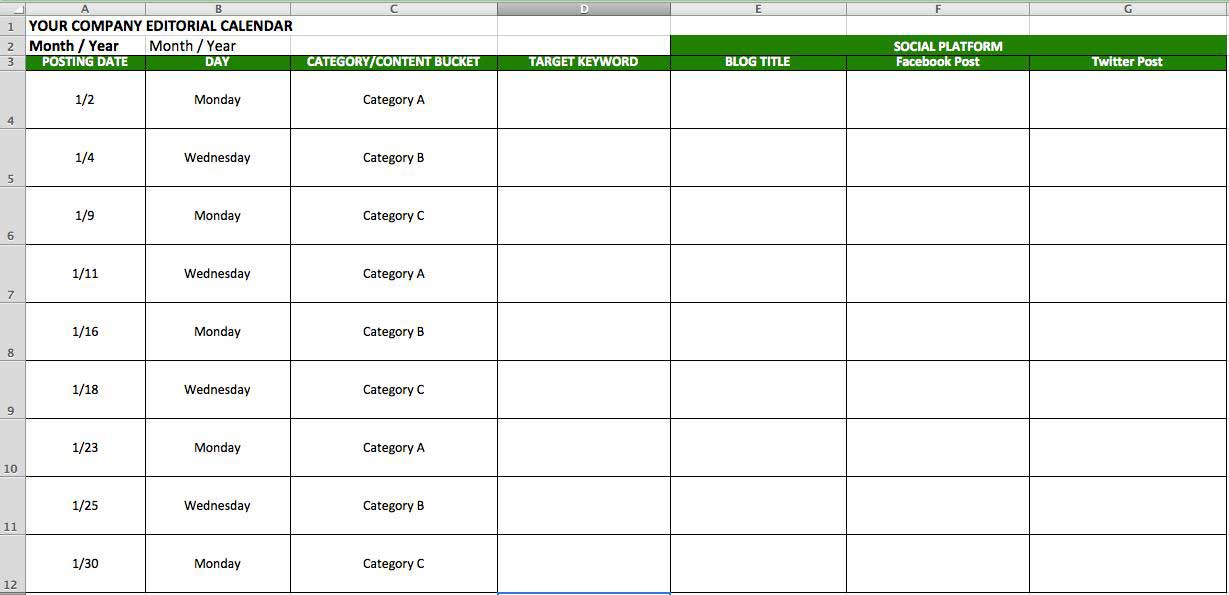 5. Create a distribution plan
No matter how informative, exciting, and interesting your blog posts are, they won't do much for you if no one is reading them or no one knows they exist. Your blog strategy must include a plan for promotion and distribution of your content.
Here are a few easy ways to promote your blog:
Promote all blog posts via social media channels, such as Facebook, Twitter, LinkedIn, StumbleUpon, and Google+. Include a column for those posts in your editorial calendar so they're ready to go when you are. (See sample editorial calendar in item No. 4.)
Highlight key blog posts to share in e-newsletter content.
Include links in your blog posts to other blog posts to cross-promote and keep people's attention.
6. Measure and adjust
Once you have a blog editorial plan and the content is flowing, test and adjust your strategy using simple tools such as Google Analytics or KISSmetrics. Closely tracking your site visitors and clicks will help you make informed decisions about the type of content to create to meet your goals and help you learn what your audience is most interested in.
* * *
Creating a successful blog for your business can be easy if you invest time, up front, in developing a strategy. Do you have a blog editorial strategy, or a great calendar template to share?

Enter your email address to keep reading ...
---
You may like these other MarketingProfs articles related to Web Sites:
---