Company: Lingo24.com
Contact: Christian Arno, Founder and Managing Director
Location: London, UK
Industry: Translation Services
Annual revenue: $6,300,000
Number of employees: 105

Quick Read:
Lingo24 is a UK-based business that used to derive around 70% of its sales from the domestic market. In 2006, it sought to expand operations internationally, both to increase sales and to diversify its revenue sources as a means of protecting itself from fluctuations in the currency markets.
Through the strategic positioning of offices across four continents, and by translating and localizing its website for other markets, Lingo24 has been able to make significant inroads into the international arena. It now derives more than 50% of its revenue from abroad.
Challenge
Lingo24 is a UK-based round-the-clock translations service, which Christian Arno started from a spare room in his parents' house just after graduating from Oxford University in 2001.
Within two years of the company's launch, Arno had set up operations in New Zealand and China, the backbone of the company's 24-hour competitive advantage. And by 2005, Lingo24 had four global hubs, 20 employees, websites in three languages, and revenue of £1.2 million (GBP).
Entering 2006, however, the company was still deriving close to 70% of its sales from the domestic market, and it wanted to find a way to increase international sales in multiple time zones in order to decrease its reliance on revenue in the form of pound sterling.
Campaign
Lingo24's expansion strategy involved the following:
1. Identifying the most appropriate locations for two new hubs
The company wanted to establish two hubs—one servicing Europe, and the other the Americas. First, however, it needed to identify cost-effective locations where it could also find sales and marketing personnel with the right mix of skills (language and technology).
The company researched salary levels, property costs, taxation, and employment law in several European cities and found that Timisoara, Romania met its criteria:
The city is closer to more European capitals (seven in all) than it is to its own capital.
Most citizens are bilingual, and many speak three or four languages.
Overhead such as property costs and salaries are comparatively low.
It has a good university that produces strong results in business, technology, and languages, so there would be no problem recruiting appropriate staff to handle sales throughout Europe.
Similar research for the Americas identified Panama City, Panama as the obvious choice:
Because of its key geographic location, Panama is an established international business center; the IMF predicted it would have the fastest-growing economy in Latin America this year.
In particular, its economy is based on a well-developed service industry, and it is selected by larger US companies that wish to establish international call centers. Accordingly, Lingo24 could tap into an existing business culture and skill base.
English and many other languages are widely spoken in Panama.
It uses US currency.
Overheads in comparison to the US and Canada are relatively low.
2. Localizing its web presence for new markets
Next, the company wanted to tap some of the most affluent markets in Europe—Scandinavia and the Netherlands—at low cost. To drive sales there, Lingo24 set up websites in Dutch, Swedish, Norwegian, and Danish, complementing its more established websites in other languages. The campaign involved the following:
Investigating the competition on websites in each of those languages, the degree of market saturation, and the services that competing translation companies offered
Researching local keywords for search engine optimization
Building new websites in tune with its findings
3. Augmenting its staffing structure
Lingo24 also needed to address the most significant issues of international expansion—local language and cultural differences—and at the same time adapt its staffing structure to accommodate the launch of the new bases in Romania and Panama, as well as increased sales in the Netherlands and Scandinavia resulting from the localized websites.
Accordingly, Lingo24 made the following changes and new appointments:
It established teams of account managers and project managers to control operations in Romania and Panama.
It hired teams of native language speakers to handle sales from Scandinavia and Western Europe.
It assigned a data analyst to analyze information, identify key current and potential markets by SIC (Standard Industrial Classification) codes, and provide insight for all future marketing decisions.
It employed qualifiers to generate new leads.
It appointed in-country general managers to oversee operations.
It commissioned a chief technology officer to create a Web-based interface between human translators and their documents.
By July 2009, the company's staff roster had grown to 105, and its network of professional translators totaled more than 4,000.
Results
The strategic positioning of staff around the globe in hubs across four continents and in multiple time zones, together with the localization of Lingo24's websites, resulted in the near doubling of international sales between 2006 and 2009.
During that time...
Sales in the US grew 1,000%, and the Panamanian office is now Lingo24's fastest-growing hub with an increase in revenue of almost 75% since opening in January 2008.
Sales in Scandinavia and the Netherlands grew more than 500%.
Overall European sales grew 300% and now make up 37% of revenue, up from 22% in 2006.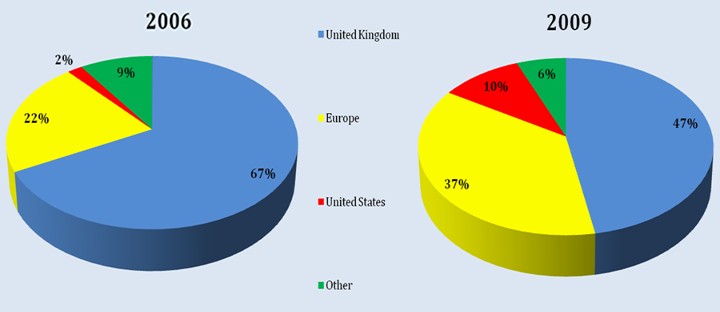 Lingo24 now has clients in some 60 countries and in every sector, including marketing, media, advertising, travel and leisure, hospitality, IT, engineering, legal, medical, and pharmaceutical.
Lessons Learned
Use new markets to hedge against currency fluctuations: Although Lingo24 did not foresee the dramatic nature of the recession, one of the goals of its international strategy was to use growth in export markets to protect the company from fluctuation in the currency markets. As a result, Lingo24 pushed US Dollar and Euro sales particularly. The problem of the weak pound and the strong euro was overcome by using the international hubs to align revenue and expenses in the key currencies. This approach managed to offset some of the effects of the recession, and Lingo24's revenue has grown more than 30% since October 2008.
The world is your oyster: When you're looking into expanding abroad, the markets you target need not be restricted to only those that are up and coming, such as the BRIC countries (Brazil, Russia, India, and China). Any country where there is increasing demand for a product or service, or where local supply fails to meet demand, should be considered a potential market, as Lingo24 found when it significantly boosted sales by targeting the US, Scandinavia, and the Netherlands—all three well-developed markets.
Be native-friendly: Cost-effective expansion globally, especially during a recession, is most easily achieved by localizing websites. Marketing in the language of the target country provides significant competitive advantages: over half of Google searches are in languages other than English, and of those more than a third are in a European language. Plus, independent research shows that people are four times more likely to buy from a site with content in their own language. By translating and localizing its website and speaking to customers in their own languages, Lingo24 has been able to cost-effectively tap new markets, build relationships, and establish client bases in those regions.
What's your strategy for tapping new markets? We want to hear about it at CaseStudies@MarketingProfs.com.
Related link
Looking for new ways to improve your marketing strategy and boost revenue? Get inspired by case studies, which are a great way to see how other companies handle the same challenges you face. For example, our case study collection, Twitter Success Stories, shows you how 11 companies are achieving their marketing objectives via Twitter campaigns.
Did you like this article?
Know someone who would enjoy it too? Share with your friends, free of charge, no sign up required! Simply share this link, and they will get instant access…
---
You may like these other MarketingProfs articles related to Marketing Strategy:
---