Interactive marketing spend is expected to reach nearly $25.6 billion in 2009—and nearly $55.0 billion in 2014, when it will account for 21% of all marketing spend, up from 12% in 2009—according to Forrester's projections in its recent report, "US Interactive Marketing Forecast, 2009 To 2014."
Marketers will be shifting budgets away from traditional and toward interactive media—search, online display ads, email, social media, and mobile marketing—bringing about a decline in overall advertising budgets during the forecast period, Forrester said.
That trend is also a reflection of marketers' growing recognition of where consumers are spending their time, according to the report: "Marketers are getting better at balancing channel investments with consumer media time."
Though people typically spend equal amounts of their media time—34-35% in 2009—with television and the internet (including at work), TV ad spending is about four times that of internet ad spending (31% vs. 7%).
Interactive-Marketing Forecast
Search marketing spend, which at a projected $15.4 billion in 2009 accounts for the largest portion—60%—of interactive spending, will grow at a compound annual growth rate (CAGR) of 15%, reaching $31.6 in 2014, according to the research.
Display advertising, expected to constitute nearly 31% of interactive marketing spend in 2009, will more than double during the forecast period, reaching a projected $16.9 billion in 2014, holding onto its nearly 31% share of interactive spend.
Social media, accounting for just $716 million of interactive spend in 2009, will grow significantly, at a 34% CAGR, reaching more than 3.14 billion in 2014—supplanting email as the third-largest interactive marketing channel in terms of spending.
Email, a widely adopted channel, is projected to have the slowest growth (an 11% CAGR), totaling nearly $2.1 billion in 2014, up from more than $1.2 billion in 2009.
Mobile marketing spend in the next five years is expected to reach nearly $1.3 billion—or roughly equivalent to current (2009) email spending levels. It is expected to have the second-highest growth rate (a 27% CAGR) among the five major interactive channels.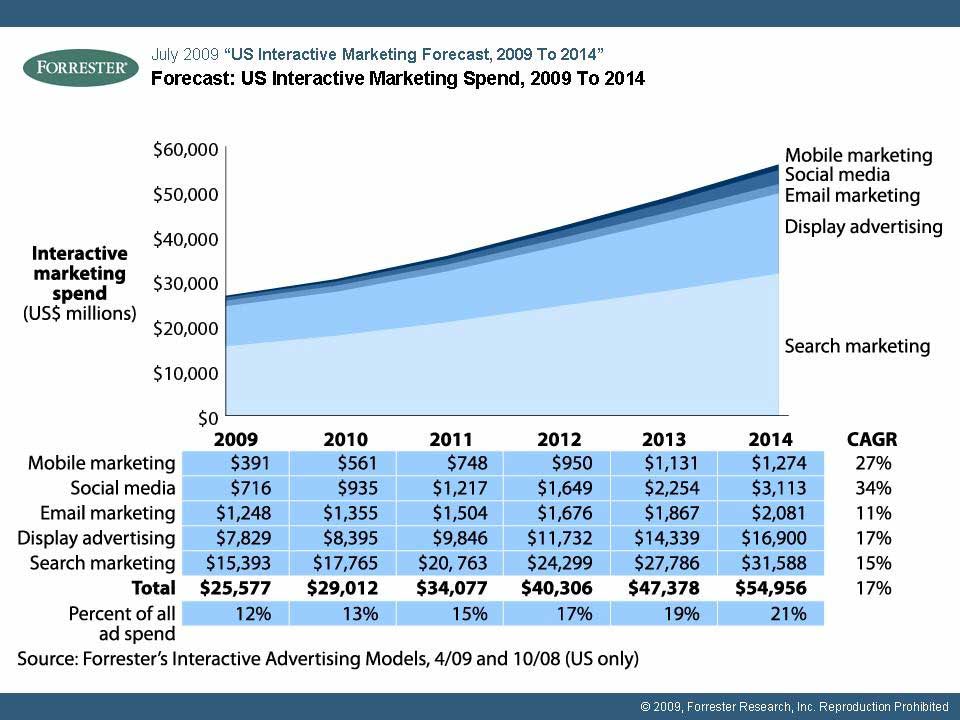 Interactive Growing at Traditional's Expense
Most marketers plan to increase their interactive marketing spend—at the expense of traditional marketing budgets—according to a May blog post by Forrester analyst Shar vonBoskirk, citing Forrester's "US Interactive Marketing Forecast Online Survey" of 204 marketers, from March 2009.
Surveyed marketers were asked: "How will you fund increases in your company's interactive marketing budget?" The findings (multiple responses allowed):
Shift money away from traditional marketing: 60%
Increase interactive budget without decreasing traditional: 15%
Increase both interactive and traditional budgets: 14%
Don't plan to increase interactive budget: 7%
Don't know: 8%
Traditional marketing budgets for direct mail and print are the most likely to be shifted to traditional, according to the same survey:
40% of surveyed marketers expect to cut direct mail budgets to fund interactive budgets.
35% said they would decrease newspaper spend
28% said magazine budgets would be cut
12% cited TV
11%, yellow pages
9%, outdoor
8%, radio
7% , telemarketing
3%, none of the above
3%, other
"But...the most interesting takeaway from the research is that overall advertising budgets will decline.... With dollars moving out of traditional media toward less expensive and more efficient interactive tools, marketers will actually need less money to accomplish their current advertising goals," writes vonBoskirk.
"But reasonable marketers won't relinquish budget because their programs are running too efficiently. Instead, marketers will allocate unused advertising dollars into investments like innovation, research, customer service, customer experiences, and marketing-specific technology and IT staff, in order to further marketing's strategic influence within their companies."

Did you like this article?
Know someone who would enjoy it too? Share with your friends, free of charge, no sign up required! Simply share this link, and they will get instant access…
---
---