Microsoft's Bing for the third consecutive month increased its market share, accounting for 9.7% of US searches in the four weeks ending Feb. 27, up 4% from January, according to Experian Hitwise data.
Meanwhile, uncontested search leader Google accounted for 71.0% of February searches, down 1% from the previous month.
Yahoo Search and Ask.com received 14.6% and 2.8% of Feb. searches, respectively.
The remaining 73 search engines in the Hitwise Search Engine Analysis Tool accounted for 1.9% of US searches.
Longer Searches Increase
In February, longer search queries—those averaging searches of five or more words—were up 3% from January. Searches of eight or more words increased 4%.
Shorter search queries—those averaging one to four words—were down 1% from the previous month.
Two-word searches comprised the plurality of searches, accounting for 22.9% of all queries.
Search Traffic to Key US Industries
Search engines continue to be the primary way Internet users navigate to key industry categories.
Double-digit increases were recorded from January to February in the share of traffic coming directly from search engines to the Automotive, Business and Finance, Entertainment, News and Media, Shopping and Social Networking categories.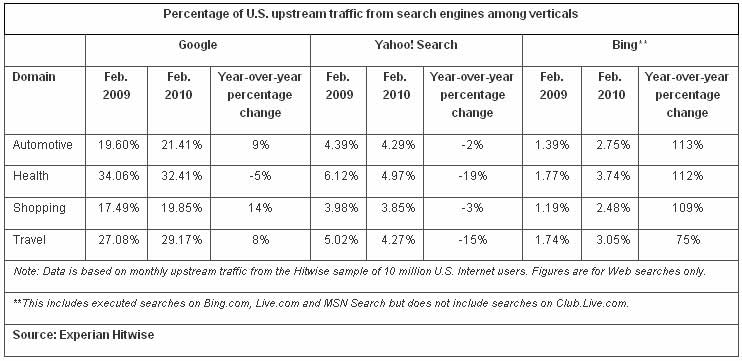 Among the top 3 search engines, Google sent the most visits to the Automotive, Health, Shopping, and Travel categories
Bing share registered double-digit growth among three categories, including a 113% increase in Automotive.

Continue reading "Bing Search Share Up Third Straight Month" ... Read the full article
Subscribe today...it's free!
MarketingProfs provides thousands of marketing resources, entirely free!
Simply subscribe to our newsletter and get instant access to how-to articles, guides, webinars and more for nada, nothing, zip, zilch, on the house...delivered right to your inbox! MarketingProfs is the largest marketing community in the world, and we are here to help you be a better marketer.
---
---
You may like these other MarketingProfs articles related to Search Engine Marketing:
---