Online video has moved to the mainstream: 81% of senior marketing executives now use online video content in their marketing programs, up from the 70% who did so a year earlier, according to a report by the Web Video Marketing Council (WVMC) and Flimp Media.

The new quarterly report is based on a poll of seasoned, senior marketing executives, conducted via the WVMC website and related media channels.

Below, additional findings from The Q4 2011 Video Marketing Survey and Video Trends Report, by WVMC and Flimp Media.

Brand websites (67%) and social media sites (61%) are the most popular channels for sharing video content; however, more than one-half of surveyed senior marketing executives (52%) are using video content in email campaigns, up from 50% a year earlier.

One-third (33%) of marketing executives cite lead generation as a key application of video content marketing, while 17% cite internal communications.

Integrating video content into email campaigns appears to be a powerful marketing tactic. Among senior marketing executives who conduct video email marketing:
88% say integrating video with email has a positive impact on email campaign performance.
76% say campaigns that integrate video and email generate higher click-through rates (CTR).
Moreover, 72% of marketers who integrate video with email say prospects are more likely to make a purchase or take other desired actions after viewing video content sent via email.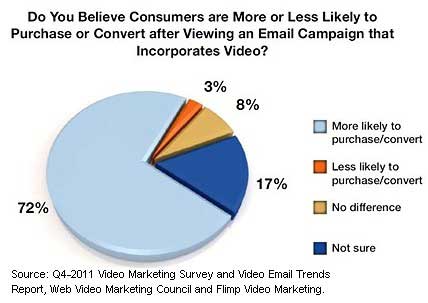 Some 17% of those who integrate video with email say they are not sure how video impacts purchasing behaviors, and 8% say adding video makes no difference on campaign performance.
Other key findings:
Video marketing budgets: 64% of senior marketing executives forecast an uptick in video marketing budgets in 2012 compared with prior-year spending, and another 17% expect video spend to be flat.
Barriers to video marketing: The most common barriers to online video in email marketing are the availability of video assets (41%), followed by ease of implementation (25%) and cost (18%).
About the data: Findings are based on a survey of 272 senior marketing executives conducted in the fourth quarter of 2011. Respondents comprised professionals from various industries including high tech (27%), professional services (19%), retailing and e-commerce (13%), and financial services (12%). Some 38% of respondents were from mid-sized companies (101-1,000 employees) and 6% were from large enterprises (1,000+ employees). The survey was distributed online via the WVMC website, its newsletter, partner email databases, and various WVMC research partners including Flimp Media and Interactive Media Strategies.

Enter your email address to keep reading ...
Did you like this article?
Know someone who would enjoy it too? Share with your friends, free of charge, no sign up required! Simply share this link, and they will get instant access…
---
You may like these other MarketingProfs articles related to Advertising:
---