Tablets are fast becoming the mobile shopping device of choice among consumers: 64% of tablet owners say they have made at least one purchase via their device in the previous six months, compared with 48% of smartphone owners who say the same, according to a new survey by Local Corporation and the e-tailing group.
Moreover, tablet owners are nearly twice as likely as smartphone owners to have made six or more purchases via their device over the previous six months (24% vs. 13%).

Below, additional findings from a survey of 1,000 consumers who own a smartphone, of which 54% also own a tablet device, conducted by the e-tailing group on behalf of Local Corporation.

Shopping-Related Research on the Rise

Fully 60% of mobile device owners research products and services several times a month using some type of mobile device.

Consumers are also spending more time conducting pre-purchase research: On average, mobile device owners report spending 42% more time than before researching products and services via PC or laptop, while 34% are doing so via smartphone and 28% are researching more via tablet.
Moreover, over the next year, 41% of mobile device owners expect to use their tablet more often to research products and services, and 31% expect to use their smartphone more often to do the same.
Shopping With Tablets
Tablet owners user their devices at various stages of the shopping process, particularly during the research phase:
50% use their tablet to research products prior to an in-store visit.
43% use their tablet to research products prior to buying online via computer.
40% say the tablet is ideal for purchasing from their favorite brands.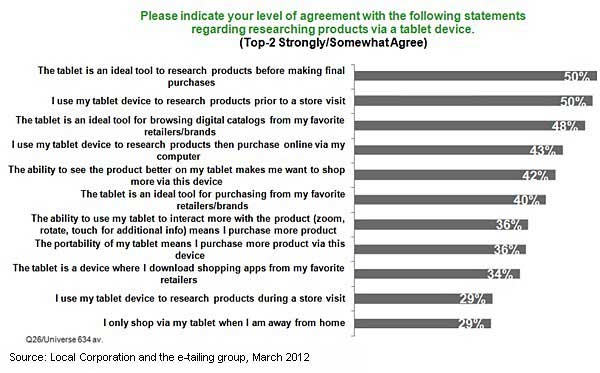 More than one-third (36%) of tablet owners cite various features of the tablet (zoom, rotate, etc.) as a key driver of purchasing more via tablet, while the same proportion (36%) cite portability as a key driver.
One-third (34%) of tablet owners download and use retailers' shopping apps on their tablet.
Shopping Activities via Smartphone
Mobile device owners also use their smartphones before they head out to a physical store:

47% use their smartphone to search for local information, including information about local stores they want to visit.
46% look up prices on a store's mobile site where they intend to shop.
42% check store inventory prior to in-store shopping.
Even while shopping in stores, two-thirds of mobile device owners use at least one device to research and transact, and 28% use two devices at a time.
Ratings and Reviews Most Influential

Among mobile device owners, ratings and reviews (41%) and search results listings (37%) top the list of resources that most influence shoppers' destinations, followed by display advertising (20%) and Facebook ads (14%).
About the data: Findings are based on a survey of 1,026 consumers who owned a smartphone (49% male/51% female) in March 2012. Respondents were qualified as having shopped online four or more times in the previous year and typically spending $250+ annually. Some 54% of respondents owned a tablet device.

Oh, boy. The dreaded sign up form.
Before you run for the hills, we wanted to let you know that MarketingProfs has thousands of marketing resources, including this one (yes, the one behind this sign up form), entirely free!
Simply subscribe to our newsletter and get instant access to how-to articles, guides, webinars and more for nada, nothing, zip, zilch, on the house...delivered right to your inbox! MarketingProfs is the largest marketing community in the world, and we are here to help you be a better marketer.
---
---
---