On April 9, 2012, Facebook announced its billion-dollar plan to acquire Instagram, a hugely popular photo sharing network with more than 30 million users.
Traffic to Instagram's website had already been increasing steadily over the previous 24-week period, reaching 3.8 million visits as of April 7, over 55 times the 68,800 visits recorded six months earlier (October 22, 2012), according to a report by Experian Hitwise.
Although most consumer activity with Instragram occurs via the company's mobile apps, the website provides links to the Apple App Store and Google Play, as well as some account management tools.
So, growth in traffic to the Instagram site is a signal of increased consumer interest.
Below, other findings from Experian Hitwise.
Audience Composition
Some media insiders have suggested that Facebook's new acquisition is a move to attract younger, mobile-savvy audiences.
Instagram's audience is relatively young: 52.44% of the visitors to the Instagram website in the four rolling weeks ended April 7 were between the ages of 18 and 34, whereas Facebook audience skew slightly older.*

Those differences may offer some opportunity for Facebook to bolster its younger user segments.
Social Networks Refer Most Traffic to Instagram
Instagram users are also social.
Instagram allows users to link and share photos with Twitter, Facebook, Flickr, Tumblr, Posterous (recently acquired by Twitter), and Foursquare accounts.
As a result of this integration and heavy use of social networks in general, social networks refer the most traffic to the Instagram website—some 80.98% as of April 7.

Among those clicks referred by the social networking category, 25.02% were from new visitors, likely interested in learning more about Instagram after seeing photos within the social feeds of friends.
Instagram for Android
On April 3, 2012, there was huge excitement around the long-awaited launch of the Instagram app for Android phones, which became available via Google Play, Google's digital media store.
The new Instagram/Android OS app reached over 1 million downloads within the first 24 hours of availability, according to Hitwise. Visits to the Instagram website increased 59% over the previous week and Google Play ranked sixth among the downstream websites visited immediately after the Instagram website.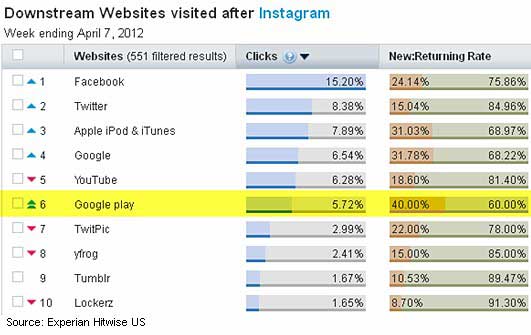 Evens so, Facebook accounted for the biggest share (15.2%) of downstream traffic from Instragram as of April 7.
*Note: According to Pew Research, 49% of adult users of Facebook are age 18-34, and 51% are age 35+.
About the study: All findings are from Experian Hitwise US for the six months ended April 7, 2012. The data does not include mobile traffic.

Oh, boy. The dreaded sign up form.
Before you run for the hills, we wanted to let you know that MarketingProfs has thousands of marketing resources, including this one (yes, the one behind this sign up form), entirely free!
Simply subscribe to our newsletter and get instant access to how-to articles, guides, webinars and more for nada, nothing, zip, zilch, on the house...delivered right to your inbox! MarketingProfs is the largest marketing community in the world, and we are here to help you be a better marketer.
---
---
---