Smartphones, Wi-Fi access, and social media have liberated business executives from the confines of their offices; however, the flip side of that freedom is that very few can separate themselves from work after hours, according to a study by gyro and Forbes Insights.

Among senior decision-makers, the boundaries between work and leisure have all but disappeared:
52% say they receive information related to business decisions around-the-clock, including weekends.
63% check work-related email every 1-2 hours during non-work hours.
53% step away from dinner to deal with work-related issues.
98% send work-related emails during the weekends or at night.
The findings highlight the importance of creating relevant communications that can reach this hyper-engaged customer segment.
Below, additional findings from the study titled: "The @Work State of Mind Project: Engaging the Most Engaged," a collaborative marketing research and development project by gyro and Forbes Insights.
Working Vacations
Among US execs, only 3% say they do not interact with work-related email or have business conversations while on vacation; most (39%) so so during every vacation.
What Influences Business Decisions
More than three quarters of execs (77%) say personal values are important or critically important in making business decisions.

Social networks are also important to execs:

67% of execs say professional social networks play a significant role in business decisions.
56% of execs say personal social networks influence their decisions.
Fewer Decisions Made in the Office
With so much business activity being occurring outside the office, fewer business decisions are being made in the office.
Nearly three in five execs (59%) say they make business decisions at home, 64% make decisions while traveling on business, and 30% make business decisions while traveling with family.

Roughly one in ten (11%) US execs make at least 50% of their work decisions at home, and 60% make at least 20% of such decisions at home.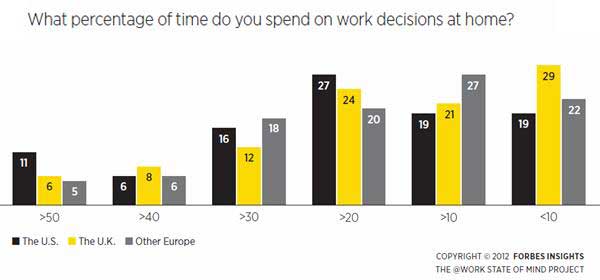 Many Execs Empowered by the @Work State of Mind
Asked how they feel when making a business decision, considering the stream and volume of information available, 40% of say they feel empowered, 44% feel well-prepared, and 15% say they struggle when making business decisions.
Meanwhile, 98% of execs say they deal with personal matters in the office, with 41% saying they spend more than 10% of their time doing so.

About the data: Findings are based on a survey of 543 executives with additional one-on-one interviews conducted by Forbes Insights. Respondents described themselves as decision makers, with most focused on business operations (62%) and strategy (60%). Some 10% were business owners, 24% held C-level positions, and 41% were EVP/SVP/VP/director. Some 31% worked for companies with revenues under $100 million, 22% worked for companies with revenues of from $100 million to $1 billion, and the remaining 47% worked for companies with revenues of more than $1 billion. The geographic breakdown included 316 respondents in the US, 105 in the UK and 122 in Continental Europe.


Oh, boy. The dreaded sign up form.
Before you run for the hills, we wanted to let you know that MarketingProfs has thousands of marketing resources, including this one (yes, the one behind this sign up form), entirely free!
Simply subscribe to our newsletter and get instant access to how-to articles, guides, webinars and more for nada, nothing, zip, zilch, on the house...delivered right to your inbox! MarketingProfs is the largest marketing community in the world, and we are here to help you be a better marketer.
---
---
---