Led by Facebook, five websites captured 20% of all search clicks from US search engines (Google, Bing, etc.) in the fourth quarter of 2012, and some 500 websites captured nearly 50% of search clicks, according to a new report from Experian Hitwise.
Facebook accounted for 8.48% of search clicks in the quarter, followed by YouTube with 5.55% and Yahoo with 2.63%:
Below, additional findings from Experian's forthcoming 2013 Digital Marketer Report.
Roughly 1,000 websites captured some 55% of search clicks in 4Q12, highlighting the challenges for marketers to reach potential customers via search:
Results were similar for paid search.
Some 10 websites captured 16% of all paid-search clicks in 4Q12. Amazon accounted for the greatest share of paid-search clicks with 4.19%, followed by eBay with 3.46% and eHow with 2.44%:
Similarly, top 500 websites captured 56% of paid-search clicks in 4Q12, and the top 1,000 captured nearly 65%: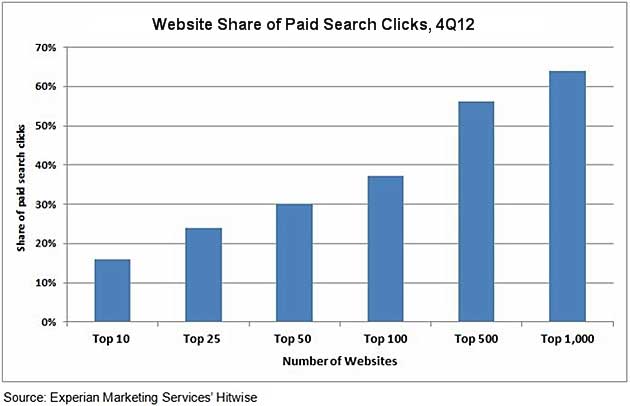 Enter your email address to keep reading ...
Did you like this article?
Know someone who would enjoy it too? Share with your friends, free of charge, no sign up required! Simply share this link, and they will get instant access…
---
You may like these other MarketingProfs articles related to Search Engine Marketing:
---