This dog can't hunt, but it sure can woof: Woofer, which calls itself an "homage to Twitter," is a new "macroblogging" site that requires each post be a minimum of 1,400 characters, reports Jon Brodkin on Network World, in contrast to Twitter's maximum of 140 characters.
Like Twitter, Woofer counts down the number of characters entered with a big number on the top right of the screen. Until you count down from 1,400 to 0, you can't post.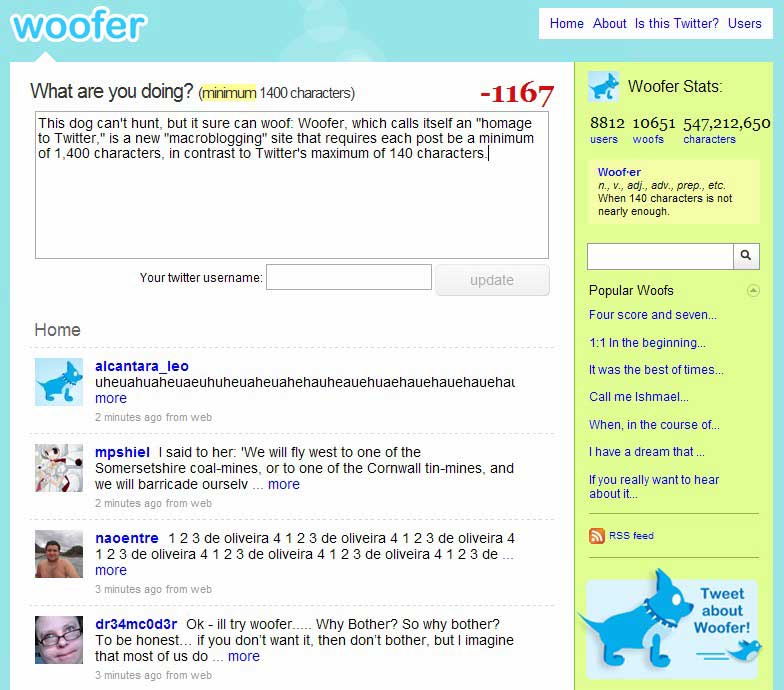 Apparently to avoid any legal problems, the Woofer site states: "We are not affiliated in any way whatsoever with Twitter." Yet Woofer's user interface is nearly identical to Twitter's, and for a time Woofer "borrowed" profile pictures from Twitter users, inadvertently allowing any Woofer to impersonate any Tweeter.
Tempted to reach the character minimum by typing in a single letter 1,400 times? When Brodkin tried it, Woofer barked in protest: "No Woof. Really?! 1400 characters and you can only use d? You can do better than that..." As of this writing, a Woofer named "adjoins" had better luck with typing in "la" repeatedly.
Copy-and-paste seems the preferred method to reach 1,400 characters. Scribes of some of the most popular Woofs reached the minimum by inputting the openings of the Catcher in the Rye, the Gettysburg Address, and Moby Dick.
Woofer is run by Join the Company, which says it specializes in launching "entertaining websites that change the way people use the Internet." Will Woofer succeed in this lofty mission? Only the blue dog knows.

Enter your email address to keep reading ...
Did you like this article?
Know someone who would enjoy it too? Share with your friends, free of charge, no sign up required! Simply share this link, and they will get instant access…
---
You may like these other MarketingProfs articles related to Social Media:
---