10 Marketing Hacks to Deliver Work On-Time, Every Time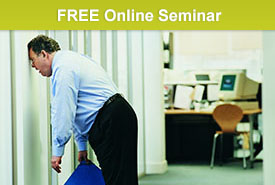 Presenters:

Jess Ostroff, Nick Scholz

Moderator:

Laura Forer

Sponsor:

Workfront

Broadcast:

Wed, Oct 11, 2017, 1pm ET

Length:

45 minutes
Marketing teams are under an enormous burden to quickly produce high-quality work. A recent survey showed that nearly 60 percent of marketers are completely overwhelmed and barely meeting their deadlines.
But creative teams have proven that if they work more efficiently and avoid unnecessary confusion, they will firmly establish their value to the company by delivering work when it's expected.
Join us for this free seminar to learn how to get your workload back under control, get your content to market faster, and take back your life.
To follow the conversation on Twitter, use the hashtag #MarketingHacks.
Presenters

Jess Ostroff is CEO & "Director of Calm" at Don't Panic Management, which provides success through virtual assistants. She also works as managing editor at Convince & Convert, one of the world's leading digital marketing advisory firms. Jess is the host of the new Managing Editor Show podcast, which takes a fun-filled approach to the daily trials and tribulations common to digital writers and their editors.


Nick Scholz is solutions marketing manager for Workfront, where he has helped build their marketing strategy, content, and services organization. He loves to help marketing teams find the right methodology, tell the right story, and create content that adds real value for customers

Who Should Attend?
Marketers who feel overwhelmed, and who are ready to implement changes that will allow them to do their best work.
What Will You Learn?
How to identify and reduce time-wasting work
Strategies for eliminating useless meetings
How to remove excessive tools
Ways to foster strong team buy-in
About Our Sponsor:
Workfront is a cloud-based marketing project management solution that helps marketing departments, creative teams, and agencies conquer the chaos of excessive email, redundant status meetings, and disconnected tools. Unlike other tools, Workfront is a centralized, easy-to-adopt solution for managing and collaborating on all creative work through the entire work lifecycle.
Questions?
Call our PRO Hotline: (866) 557-9625