Five Ways to Use a Website CMS to Improve UX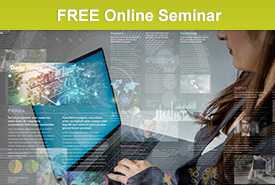 Presenter:

Megan Gouveia

Moderator:

Heidi Erdmann

Sponsor:

Progress

Broadcast:

Wed, May 30, 2018, 1pm ET

Length:

45 minutes
Static websites are a thing of the past. And while some businesses continue to publish individual page updates directly to servers, this can seriously limit their ability to scale or improve user experience.
If you're new to Content Marketing Systems or aren't sure you're making the best use of the one you have, join us for Five Ways to Use a Website CMS to Improve UX. This free seminar will show you how to both launch new websites and also test, scale, and improve existing ones with greater efficiency and success.
Presenter

Megan Gouveia is senior digital marketing manager at Progress. She has spent the past 10+ years managing large-scale website initiatives to improve the overall user experience and increase lead generation. Recently, she has turned her focus to personalization and optimization, delivering data-driven custom experiences for each visitor to the website.

Who Should Attend?
Any marketer involved in keeping websites current—content, design, testing, or UX.
What Will You Learn?
By the end of this seminar, you'll know how to:
Use a CMS to enable any marketer to be a content publisher
Use flexible layouts and drag and drop interfaces to improve efficiency
Enable multilingual support for international sites
Improve results with A/B testing and experimentation
Use content insights and analysis to provide a better user experience
About Our Sponsor:
Progress, a global leader in application development, is proud to feature Progress Sitefinity as part of its product portfolio. Sitefinity is a content management and marketing analytics platform that provides marketers and developers with the tools to support enterprise-level digital marketing, optimizing the customer journey with seamless personalized experiences across different technologies and devices.
Questions?
Call our PRO Hotline: (866) 557-9625