After posting a blog entry on our site titled "How big brands screw up search," I got to thinking... let me pick out one such company and give a live example. Today, I am picking on Nike (sorry, guys).
I did a search on Nike as a keyword, and just that word alone came back with over 2.5 million searches performed last month according to the SEObook.com tool, which uses Overture's keyword suggestion tool. This does not include the long-tail terms like Nike football cleats, Nike air force one, Nike sports bra, Nike golf balls and the millions of other searches done with the word Nike in it somehow. I wouldn't be surprised if the branded Nike search volume were in the 15 million range.
Then think about all the unbranded search terms where Nike could get people to consider its brand... terms like golf shoes, golf gifts, golf clubs, footballs, football cleats, off-road running shoes, running shoes. You can just imagine that the number of searches done for these terms could dwarf the search volume for Nike's branded terms. (Not to mention that an iProspect study found that roughly 36% of people associate ranking higher with being a better brand.)
OK, so now we know the potential, let's uncover how Nike is missing the boat and how it could right the ship with a slightly more focused effort on SEO and by improving the customer experience of customers coming from search engines.
Overall, big brands typically screw up search in two big ways, and Nike is no different:
Missing out on long-tail terms: If you are not familiar with the term "Long Tail" as it relates to search, you can get the basic idea from a blog post by the search Granddaddy himself, Danny Sullivan.

Typically, big brands want to target the big unbranded terms like "tennis rackets," "golf clubs," or "running shoes." I do recommend that they target such terms as a way to position their brand in the minds of people who are searching. But they often miss terms like "golf club reviews" or "women's trail running shoes." Typically, these long-tail terms are the ones that convert best.

Even worse, in Nike's case, it doesn't show up in the top 10 for the term "Nike trail shoes." That is a term that includes its brand name. This happens a lot with Nike branded search terms... If I were Nike, I would start on the branded terms, because they are the easiest to rank well for given its existing Web assets; they are most definitely the low-hanging fruit, just waiting to be plucked. People searching for products using the word Nike in their search are already familiar with the brand and are probably calling out for you to show up—but there's Nike, hiding from them on page 80!


All-Flash sites with no alternative version: Does it make sense to spend significant amounts of money on heavily Flashed branded sites—but not on driving people who know the brand to the branded site using organic (natural) search engine optimization... AKA free clicks?
So maybe you are saying... "Hey Wil, maybe Nike doesn't want to use search at all in their marketing." I thought about that.
When I did a search on Google for "Air Max," I got this page:

Click to enlarge
Nike is paying to be in a top position on PPC, which means that search matters as a way of gaining exposure, brand awareness, and possibly, just maybe, sales. But when I clicked on the PPC link for "Air Max," I was taken to the Nike store homepage.
Mistake No. 1—Nothing from my search query is reinforced on the landing page
I typed in "Air Max." How about taking me to a page with Nike Air Max shoes, for men and women? (Since I didn't type women's Air Max or men's Air Max, Nike doesn't know which I want.) Why is Nike making me have to navigate the site when my search query specifically indicated that I was seeking Air Max shoes?
Take a look at the homepage. Can you tell me where the Air Maxes are?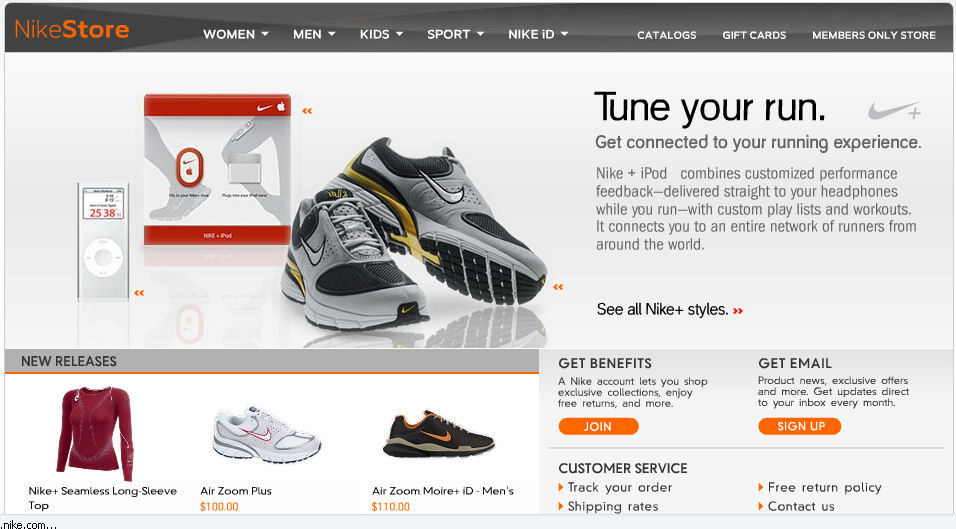 Click to enlarge
While it may be important show me what Nike wanted to show me on its homepage, it should first help me find what I was seeking, then start showing me other info.
Let's give a real world example of the offline equivalent of what Nike just did: You go to a store to purchase an iPod, and the salesperson ignores your request and starts showing you car stereos, leaving you to fend for yourself, looking around the entire electronics department.
Mistake No. 2—Not developing a descriptive meta description tag
Notice on the above search that Nike's site was in the organic listings for Air Max. That is a victory in and of itself. But notice the description of the site in the SERPS: "JavaScript and Flash 8 are required to view this site!"
That is not a very helpful description. How about someone over at Nike trying a description like "Check out the newest in Nike Air Max technology for Men's & Women's running, basketball, and tennis shoes—Official Nike.com site!"?
Anything would be more helpful than "JavaScript and Flash 8 are required to view this site," don't you agree? And it might help a little bit with search.
Mistake No. 3—Putting "Cool" over helping me find stuff on the site
When I search for something, I am on a mission, and either your Web site helps me to complete that mission or it doesn't. Nike, more often than, doesn't.
I was searching for Air Max's, remember? If I did click on the "JavaScript and Flash 8 are required to view this site" description, I would get a flashy sleek site that lets me control how fast a character runs with my keyboard. I guess that is a cool idea developed by the brand guys. You didn't realize that I don't care much about making some girl run faster on my screen when I am looking for Air Max shoes—and you failed to ask me whether I care.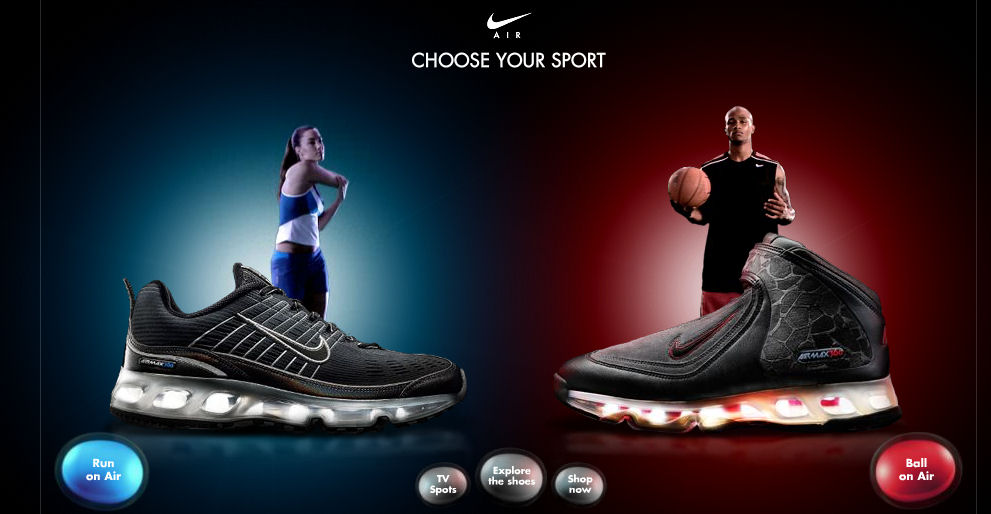 Click to enlarge
Nike, how about before you showing me how cool you are after asking me what I want first? What am I here for? Take some time to find out!
Do I want to know the history of Air Max shoes? Am I looking to buy? Have I come looking to play with your slick site? At this point, you don't know and you don't seem to care what I just told you I was interested in. I was looking for Air Maxes, and instead got something that isn't helping me find them very easily.
This is just one example of Air Max, a branded term that shows I already know about Nike Air Maxes. Let's try another: "Nike Trail Running Shoes." This is a branded search term. Remember, this is the holy grail of search—someone who already knows your brand!


Click to enlarge
Mistake No. 4—Driving a user with a very specific query to the homepage can waste parts of pay per click (PPC) budgets.
The beauty of pay per click is that you can easily direct the user to exactly where you want them to go on your site (unlike organic or natural search, which can sometimes be more difficult in this regard).
We covered this before, but once again I am indicating to Nike (by my search term) that I am looking for a very specific product, yet it continues to send me to the homepage. Here, Nike is paying per click, so one would think it would want to maximize value. Instead, we're back to the iPod vs. car stereo salesman who just doesn't help us get what we are seeking.
The beauty of the Web is that it is a 24/7 salesperson. The question is this: "Is your Web site a blathering obnoxious salesperson or helpful and friendly, asking questions and making it easy for customers to get what they are seeking?"
Mistake No. 5—Bad landing pages can hurt PPC rankings
News flash—you can't pay to be No. 1 on Google anymore. An algorithm that decides how well your landing page matches with the user's search mission will affect where you rank (along with your cost per click, and other factors). Yahoo is apparently going this route as well.
If you noticed in my search, Brooks running shoes (a competitor) outranked Nike on PPC for a branded Nike term. Hey, Brooks, how about sending me to a page about trail shoes, too?
Mistake No. 6—Flash sites with no alternative version can suppress natural rankings
Having such Flash-intensive sites (which otherwise definitely has tons of value), Nike hurts its ability to rank well in the natural search results for tens of millions of searches every month for these terms. Remember that most clicks occur on the natural results rather than the paid ones. Hey, Nike, this is free traffic, buddy! You are Nike! You have humongous amounts of links to your sites. Ranking well for branded terms in the natural rankings could be relatively painless with the right architecture developed around search. Instead, your site wasn't in the first five pages of Google for a term ("Nike Trail running shoes") that included your brand. You can fix this!
Mistake No. 7—Flash shopping cart = no love from Froogle/shopping search
Your flash site, while slick as all get out, isn't allowing you even show up in Froogle! Google's shopping search engine. Notice the arrow in the screen capture that points to "Product Search results for..."
These sites are showing up for the product searches for your brand. If your site was developed in a manner that was amenable to search engine rules (Like a flash-alternative version), you would have a chance to show up in Google's product search engine. Again, you are Nike. Get Google on the phone. Find out how you can export your product catalog to get into Froogle and potentially other shopping search engines. Remember, shopping search engines are visited often by people who are looking to shop... AKA spend money!
Unless, of course, selling additional shoes and athletic equipment doesn't matter much to you.
Mistake No. 8—Investing in great tools and not driving traffic to them
When I type in Nike Golf Balls, Nike is once again showing up in the PPC side for terms, and this time I actually get to a landing page about golf... Yes! But there are some hiccups...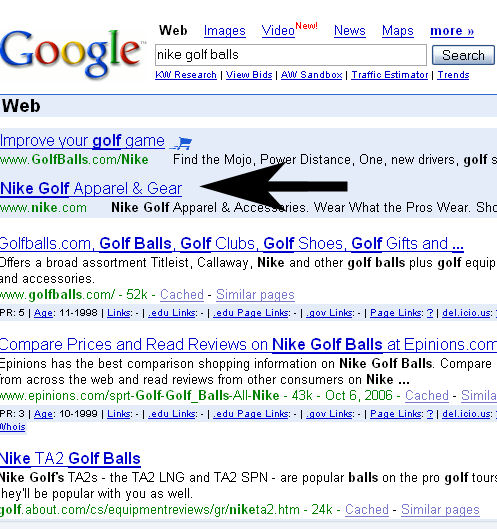 Click to enlarge
You got me to a golf-themed landing page, but your landing page doesn't show me golf balls. It shows me shoes. I understand that you may want to push your new Air Max golf shoe. Could you "Just Do it" as an up-sell in the checkout process or on product pages? I would have really liked it if you got me to the landing page that actually had golf balls, but what's a guy to expect?
I typed in "Nike Golf Balls" and got this wonderful looooooong Flash movie about Tiger Wood's swing and how you took digital shots of it using some military grade camera or something. Well, how about showing me some golf balls. After all, that is what I searched for!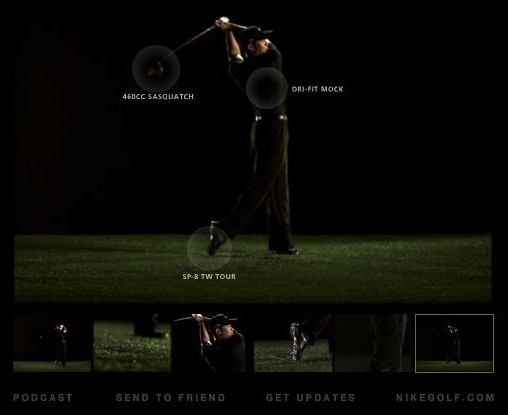 Click to enlarge
Nike, you are not taking advantage of some awesome existing assets. You have a great ball selector tool that helps me select the right golf ball based on my handicap, goals, issues with swing, etc. This is very useful. However, there are two problems with that (Sorry Nike, can't give you too much praise).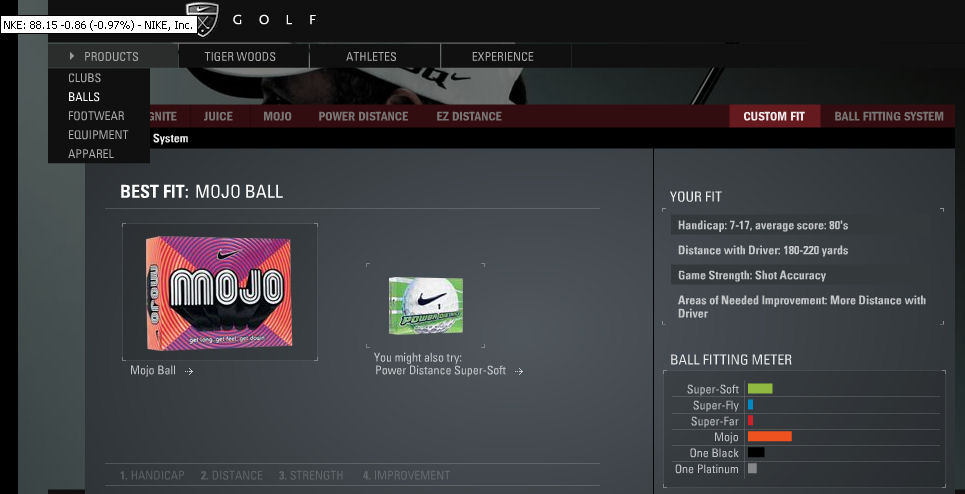 Click to enlarge
I can't directly link to this great tool, which I would have done from this article, because the URL never changes as I click through the site. You have to go to nikegolf.com > balls > product selector. This makes it more difficult for people to pass on this great tool to friends via email.
Though the tool is not too difficult to find, the target audience tends to be older, and browsing around the Web for fun is probably not high on their agenda. The absence of a direct link also hurts your ability to build up links from other sites, which would help you get higher rankings.
* * *
So, if you are in the marketing department of a large branded company, take the opportunity to beat the others in your space on search as they languish, not fully taking advantage of their Web assets.
Subscribe today...it's free!
MarketingProfs provides thousands of marketing resources, entirely free!
Simply subscribe to our newsletter and get instant access to how-to articles, guides, webinars and more for nada, nothing, zip, zilch, on the house...delivered right to your inbox! MarketingProfs is the largest marketing community in the world, and we are here to help you be a better marketer.
---
Sign in with your preferred account, below.
Did you like this article?
Know someone who would enjoy it too? Share with your friends, free of charge, no sign up required! Simply share this link, and they will get instant access…
---
---