As an editor and marketer, I spend a lot of time thinking about the "how to"—in other words, how to translate the best and most interesting marketing ideas into truly actionable steps for organizations looking to grow their businesses.
But, every once in a while, it's good to take a step back—to take stock of the bigger picture, to put ideas into perspective. Like at the start of a new year, for example.
So at the start of 2011, here are a few bigger trends I see shaping the way B2B marketers will do business in the coming year.
1. social media = Lots of room for improvement
It's true that B2B marketers are embracing social tools as a way to connect with customers and grow their businesses. Most businesses have some kind of social presence or say they plan to launch something: Most have attempted a blog or Facebook page, or have peeked at Twitter. (For instance, when Guy Kawasaki asked a room full of B2B marketers at a recent MarketingProfs event, "How many people think Twitter is stupid?" only two brave souls raised their hands high.)
Still, most B2B marketers have yet to truly embrace the full social toolset for their business. A mere 12% of business executives say their companies are using social media effectively, according to a recent study by Harvard Business Review Analytic Services.
Why is that? Sometimes, it's because they are unsure of the real value of social media, and sometimes it's because they aren't sure how to approach social channels. (How do you foster engagement on Facebook? What's the value of social-streaming platforms like Twitter, where your content quickly vaporizes? Why doesn't our blog have any comments?)
In other words: B2B marketers + social = lots of room for improvement.
2. Content isn't enough
Most B2B marketers have embraced the notion that they are also "publishers." In other words, they understand that in addition to being in the business selling whatever they sell—shovels or software—they also need to be producing content as a cornerstone of their marketing, both to engage and to educate their would-be customers.
In a survey MarketingProfs conducted last spring with Junta42, almost 90% of B2B marketers said they were using some form of content in their marketing: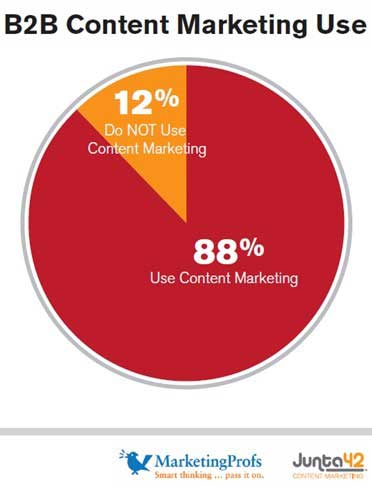 But, at the same time, producing any old content isn't enough. B2B companies have to produce the right kind of content: Web content that is honestly empathetic and seeded with utility for your customers; content that reflects your business's core values and is inspired by your unique perspective and authentic "voice."
In the same survey, B2B marketers said "producing engaging content" is their biggest marketing challenge.
So how do you produce the right kind of content? That bit about being "honestly empathetic" above is the key: Put yourself in the shoes of your customers, and consider what you can do to best suit their needs. Be that expert who can help them with their problems and offer solutions. Be a voice of trusted reason in your industry, about whatever problem it is that your service or product solves.
And do it in an interesting way. "Tweet is the new haiku," as Guy Kawasaki says. By learning how to write a compelling tweet or an interesting blog post, or by creating video or curating information that speaks to the heart of an issue, you will elevate your status from someone who merely sells stuff to someone who has an expert point of view and is a go-to resource.
3. Serving is the new selling
As I've written in the past, serving is the new selling, and support is the new marketing. Smart companies will increasingly be "brand butlers," focusing on how they can help their customers or prospects make the most of their daily lives (versus the old model of selling them a lifestyle).
Content is one way that you can meet the needs of your customers—by delivering information that's timely, needed, helpful, and on-brand, as we talked about in No. 2, above.
But there are other ways—via iPhone apps that help customers accomplish certain tasks, or via real-world support that might assist people in their daily lives. Virgin Atlantic's Flying Without Fear course is an example; so is HP's Planet Partners Recycling Program.
So is simply rethinking whether your website navigation really helps your customers accomplish what they need to do, as Gerry McGovern writes in his new book, The Stranger's Long Neck (A&C Black, 2010). (Or, whether it just offers them marketing "Frankenspeak.")
4. Content = More than words
When I say "content," B2B companies should be thinking not just text and stuff people read like blogs, ebooks, and whitepapers. Creating content also means producing audio, video, charts, infographics, illustrations (like this collection by David Armano), photos, cartoons, animation, SlideShare ... and even puppet shows.
Online video is becoming more important as a source of business information and a driver of work-related buying decisions among today's senior executives: 83% are watching more online video today than they were a year earlier, and 65% say they have visited a vendor's website after watching a work-related video, according to a recent survey from Forbes Insights.
Think about "reimagining" content you already have (or are planning to create) into video, audio, or other formats. Record a video interview with your whitepaper author, release a Q&A interview with a webinar speaker based on the audience's questions, and publish that together with the presentation on SlideShare.
As C.C. Chapman and I write about in Content Rules, "reimagining" your content means you think of other ways to use the content you already have, versus creating one-off content items. It's a way to efficiently harness your content marketing efforts and ensure consistent messaging. It's kind of like recycling, but with far more intent and purpose.
5. Focus is on wins and losses
Social media is like baseball, says Brian Watkins, social media manager of Adobe. True baseball nuts love to pore over the stats of their favorite teams and pet players. They love to compare stats like stolen bases, strikeouts, ERAs, RBIs, sacrificed hits, and so on; meanwhile, all the League really counts is two things: wins and losses.
Similarly, social media fans love to pore over their own endlessly fascinating (but ultimately meaningless) stats: number of fans or friends or followers, number of retweets, number of views on YouTube, comparative social clout, and on and on. Meanwhile, all the C-suite really counts is sales.
The important thing is to recognize that it might be interesting and satisfying for aficionados to indulge in their own stats, but what really matters is the biggest picture.
For B2B and social media, that means connecting socially with your customers in a meaningful way that actually makes them do business with you.
* * *
So those are a few things on my radar this new year. What about you? What trends do you see affecting your business as we move deeper into 2011?
Did you like this article?
Know someone who would enjoy it too? Share with your friends, free of charge, no sign up required! Simply share this link, and they will get instant access…
---
You may like these other MarketingProfs articles related to Marketing Strategy:
---