When you have a well-known and fabled story attached to your business, it should be easy to go out and succeed in social media, right?
For the Trapp Family Lodge resort in Stowe, Vermont, the challenge wasn't telling the old story; it was finding a way to connect the past with the present. Ultimately, the von Trapps turned to social media to tell stories of the next generation of family members, and found they could use their stories to help grow their business.
When Johannes von Trapp, the youngest son of Maria in the Sound of Music, started the transition to hand the business over to his son Sam, they turned to my firm to see how we could use online marketing. We noticed two things right away: Sam was starting to implement a lot of changes, and he was telling us stories about these changes every time we saw him.
We realized we had an opportunity but needed to put some structure around the idea of using those stories. We asked ourselves a few key questions:
Granted, there were a lot of changes and stories. But how could we develop a structure and format for capturing the stories from Sam and his sister Kristina (and others), and then write them in a very personalized way?
Once we had the stories, what channels should we use to disseminate them?
How would we monitor the responses the stories elicited?
The challenge for most companies isn't having a lack of stories to share—each has many. They just can't figure out a process for telling them.
For Trapp, we started by...
Conducting weekly interviews. Usually we had a phone call (30 minutes to an hour long) and email follow-ups with various people—resort staff and siblings Sam and Kristina von Trapp. We did interviews for 2-3 weeks.
Writing test stories, with style and tone variations. That led us to a writing style that was personal, direct, and easy to replicate. It "sounded" like what we heard.
Setting up our social channels, including a blog on the site, a Trapp Twitter account, and Facebook fan page.
Using free monitoring services. We didn't want to invest a lot of money in a paid service before we knew its value. We used tools like Social Oomph, BackType, Topify, and Google Alerts to monitor what people said about the Trapp Family Lodge resort.
Focusing on our e-newsletter as our main storytelling vehicle. With it, our stories became easier to write. We could then repurpose them to the blog and promote them on Twitter and Facebook.
Monitoring our email responses, Tweet stream (using CoTweet so that multiple people could tweet under the same account), and Facebook insights.
We had one of our copywriters write the first two stories, then the Trapp Family team took over and followed the style. Remember, the style was an authentic reflection of how Sam and his sister actually talked. We just translated it.
In one of our initial stories, Sam told us about a time when he was gathering sap up on a mountain to make maple syrup, when two owls attacked him. The response to this story was overwhelming. People responded, in email and on social media, as if he had told them the story personally. In another story, Sam's sister Kristina wrote about how she and her kids nursed a highland cow back to health. Again, the response was strong and immediate.
That's when our monitoring started paying off. Or, should I say, our listening started leading to insights like these:
Monitoring is only as good as the people listening. We weren't interested in volume as much as real sentiment. And the best way of measuring sentiment isn't through automation; it's through personal attention.
Half of the responses were from current resort guests expressing their desire to return.
The other half had never visited the resort. They were just big fans of the von Trapp story and the Sound of Music.
The half that never visited was consistent in its response: "Our dream is to one day come and see where your family lived."
This listening got us thinking. What would entice Sound of Music fans to overcome their inertia and finally visit the resort?
Around that time, Sam von Trapp had started giving family history tours with his father and sister for resort guests. So we came up with the idea: What would happen if we created a "Meet the von Trapp" package for new visitors? They would stay at the lodge for 2-3 days, and have the opportunity to take a virtual experience with the Sound of Music and turn it into a personal connection.
We launched the package in the deadest travel time of the year (what we call Stick Season in Vermont, between foliage season and Thanksgiving).
Our campaign for the package launch included the following:
Creating Facebook ads, targeted by geography and at our fans
Using Google AdWords to promote the campaign
Publishing through our e-newsletter and blog
Training the call center staff about the package, including how to discuss it
Getting all of the above, package included, approved and published in 10 days
At a time when many hotels close up for the month, the "Meet the von Trapp" deal started driving new business. It was business that dropped right to the bottom line. And it was business that turned into repeat business.
It all started with the stories and listening, which helped us figure out what people really wanted and needed, and how we could deliver it. After all, people don't want relationships with brands, they want relationships with people—like Sam, Kristina, and Johannes von Trapp.
Some of the best validation came from our monitoring after the package launched. People weren't merely signing up, they were also happy to see our ads. When was the last time that happened to your business?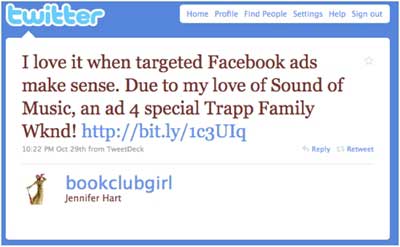 Continue reading "How Storytelling Can Spur Business Growth" ... Read the full article
Subscribe today...it's free!
MarketingProfs provides thousands of marketing resources, entirely free!
Simply subscribe to our newsletter and get instant access to how-to articles, guides, webinars and more for nada, nothing, zip, zilch, on the house...delivered right to your inbox! MarketingProfs is the largest marketing community in the world, and we are here to help you be a better marketer.
---
---
You may like these other MarketingProfs articles related to Marketing Strategy:
---