Big brands use jokes to market their products all the time. But, sadly, many small and medium-sized (SMB) marketers have lost their sense of humor.
Why is that? Maybe SMB marketers sense they have too much to lose to throw it all away with a joke. "We're running a business here" may be the kind of thinking that squashes their sense of humor. Not to mention... smaller marketing departments are juggling an awful lot of balls. What happens when you complicate things by adding a rubber chicken?
But running your marketing department—and your business—with a smile can increase your conversions, give your public relations (PR) a lift, and humanize your business. So, let's bring back the funny!
The Seven Species of Marketing Humor
1. Wit
Is wit only for word nerds? Maybe, but a laconic turn of phrase with a sense of humor is universally appreciated.
Witty copy makes your brand appear smart, but it also indicates that you're not wearing a suit—at least most of the time.
Practical application: Use wit in email headlines, pay-per-click (PPC) ads, and banner and display ad copy.
Having a witty writer on your staff has benefits beyond always being in on the joke. Effective marketing writing gets to the point. And an essential tenet of witty writing is that an idea should be condensed into as few words as possible. What an excellent skill for a marketer to have!
2. Absurdity
The category winner here is the inimitable Crowdrise, famous for dedicating valuable homepage real estate to a puzzling meme called "picture of a napkin."
Skeptical? Think absurdity is a waste of time? Yes, the homepage is optimized to death, and every inch counts. But though we A/B test until our eyeballs bleed, how often do we test absurdity?
Here is Crowdrise founder Robert Wolfe's answer to that question: "We definitely don't want to be a normal site. We believe in nonsensical marketing, and we want to be at least a little bit notable. Visitors who click on the napkin pic may not learn the typical company info, but I do think they'll get a glimpse into the idea that we want to make giving back fun."
"We've received thousands of napkin pics," Wolfe says. "It's crazy and awesome."
Practical application: Use "absurdity" in branding, efforts to get social attention, and PPC ad copy.

3. Unbridled enthusiasm
A perky attitude and friendly voice can go a long way toward humanizing your company. The masters of that style are the writers at Threadless, who pepper their copy with exclamation points, slang, and familiarity.
"We like you!" They proclaim on the homepage. "Check out a jillion more designs!"
Standing out when your products themselves are so kicky and fun isn't easy, but the writing on Threadless's website—and in its emails—project an image that says "We are one of you. We're best friends. Aren't we fun?"
Practical application: Use enthusiasm in your product descriptions and email copy.
4. Self-deprecation
Self-deprecation is PR gold. The key is to be genuine, which means that the message must truly come from the heart.
Considering that some of the worst PR disasters come from attempts at humor (e.g., Kenneth Cole's suggestion that the Cairo riots began as a result of its new spring collection's becoming available online), a little goes a long way. Go heavy on the deprecation and light on the humor. But don't forget who you are.
Practical application: Use self-deprecation in video (very humanizing) and social media (where issues tend to propagate).
5. Zeitgeisty silliness
This type of humor relies on the audience's complex understanding of abandoned, maligned, or inappropriate-for-the-age-group terminology. The hilarity comes from its incongruous nature in addition to a shared disdain—between the audience and the brand—for the idea in question.
Sound complicated? Zeitgeisty silliness is actually one of the easiest types of marketing humor to pull off. For example, consider this email subject line from that great company, ThinkGeek.com: ThinkGeek less-than-threes you.
Note the clever distancing of the writer from the infantile <3 symbol, indicated by his having wryly written it out pedantically. It says, You're in on the joke.
I less-than-three you guys, ThinkGeek. (And I'm saving up my Geek Points for that Tauntaun sleeping bag!)
6. Casual, cheeky indifference
This comedic genre is best presented with traditional wit and cleverness. Outdoor clothing retailer Moosejaw doesn't need to pepper its homepage with dry quips. Its competitors get away with selling jackets with an earnest voice.
But Moosejaw's voice is different, and it speaks to its customers. The retailer has turned the word "thing" into a thing, creating a distance from the ugly truth that you're on its website to make a transaction. What? You're clearly here because this place is cool!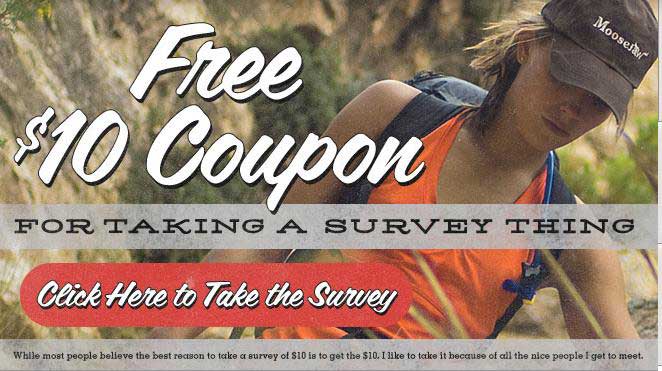 Practical application: Use cheeky indifference when selling anything that's "cool," in newsletters, and in promotions.
7. Mocking
Subtly offend the audience for being ignorant of your product. Then offer a solution!
Practical application: Use mocking in your PPC ad copy and in display and Facebook ads. Keep the mocking off your site; visitors are already your friends by the time they arrive.

How Do You Protect Your Voice and Maintain Consistency?
Cool-stuff Internet publisher Off the Quad, which posts content that relies on its clever voice, uses a style guide.
But not the kind of style guide you have in mind.
"We publish content written by 10 writers across 60 campuses," says managing editor Michelle Doucette. "To prevent having to constantly make edits to preserve our unique voice, I put together a guide."
Michelle's guide includes tips and examples for pop-culture references, parenthetical asides, and wacky comparisons.
"Our voice is what makes us relatable," Michelle says. "It's a big part of who we are."
* * *
So, let's bring the fun back into marketing. What are your favorite examples of marketing humor?

Enter your email address to keep reading ...
---
You may like these other MarketingProfs articles related to Content:
---